Saffron Flavoured Mango Mousse(eggless)
Mousse is a creamy dessert originated in France. Saffron(Kesar) and Mango are the typical Indian flavours.
I am presenting a fusion recipe here with the aroma of saffron imbibed to the sweetness of juicy mangoes blended in cream to give the ultimate delicacy that every taste buds will thrive to have.
Its a Saffron flavoured Mango mousse.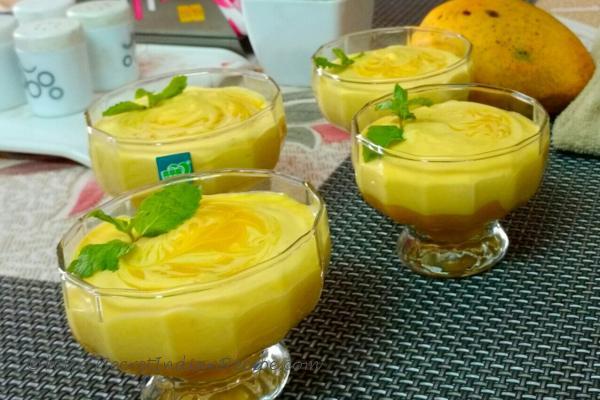 Ingredients:
Fresh cream -200 ml
Condensed milk - 5 big tbspn
Ripe Sweet Mangoes - 2 Big
Icing sugar - 6 tbspn
Saffron - 8~10 strands
Mint leaves for garnishing
Tooth pick to do art on mousse (optional)
Directions:
1. Fresh cream to be freezed overnight before whipping it for mousse. Whip fresh cream at high speed in a hand blender till its light and airy.
2.Mix condensed milk & saffron strands to the whipped cream and beat at medium speed till everything mix well. You can see the colour change to golden yellow and smell the aroma of saffron.
3.Keep the mixture in freeze for 15 min.
4.In a second jar,take the ripe mangoes pulp and add icing sugar to it. Blend it properly.
5.Take out the chilled whipped cream with saffron and lightly fold prepared mango puree in it. You can keep a little amount of mango puree for garnishing.
Plating & Garnishing: 6.In a deep bowl, add 1 big tbspn of mango puree at bottom, then pour the mango mousse on top of it. Add one small tbspn of mango puree on top and with the help of a tooth pick do some art to give it an appealing look. Garnish with fresh mint leaves. 7.Tastes good if freezed for 3~4 hrs.
Footnotes:
Its an eggless mousse,but a real yumm.