Sagli Wangi (brinjal Masala)
This is a vegetarian dish with some rich spices. Tastes best with hot roti, paratha, bhaakri or steamed rice.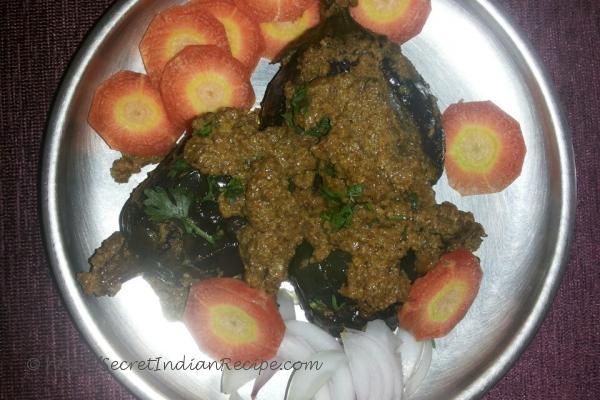 Ingredients:
10 small brinjals
1 cup shredded coconut
1 tsp coriander seeds
1/2 tsp cumin seeds
1/2 tsp sesame seeds
3 cloves
1 green cardamom
1 inch cinnamon
1/2 tsp khus khus
1 tsp red chilli powder
1/4 tblsp turmeric
1 tsp tamarind pulp
small piece of jaggery
salt
oil
Directions:
Make 4 cuts to the brinjals from the middle. Soak these brinjals for 10 minutes in the water, add some salt to the water. Remove the brinjals and press them gently with the hands. Fry them in oil after the water is removed completely.
Take 2 tblsp of oil in a pan. Add coriander seeds, cumin seeds, cloves, cinnamon and green cardamom and fry them well. Fry sesame seeds and khus khus separately. Then fry shredded coconut with turmeric and red chilli powder in some oil. Grind all these fried and roasted items in a mixer well.
In a pan, take 2 and 1/2 tblsp oil, add the mixture to the oil. Add the fried brinjals to the mixture. Then add tamarind pulp and jaggery to the mixture, add salt to taste and let it cook for about 10 minutes.
Garnish the dish with some shredded coconut and chopped coriander leaves.
Footnotes:
Serve hot with roti, paratha or bhaakri.