Sakarpaala (gramflour Cake Curry)
Sakarpala is a age old recipe cooked in Bihar and Uttarpradesh. In earlier times it used to be an essential food item served during any marriage ceremony. It consists of dal cakes dipped in spicy curry and is usually served with plain rice.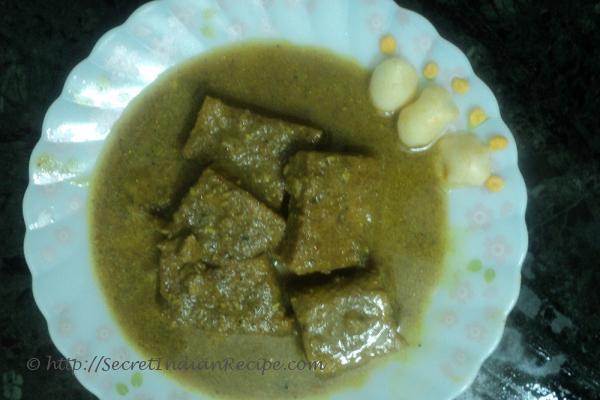 Ingredients:
(For the dal cakes)
Channa dal (soaked for 2 hours) 150 grams (5.5ounce, alternatively one can use besan)
Green chilli 1 piece
Garlic 5-6 cloves
Turmeric ½ tablespoon
Salt 1/2 tablespoon
(For the gravy)
Tejpatta (bay leaf) 1 piece
Cumin powder 1 tablespoon
Black pepper powder ¼ tablespoon
Ginger garlic paste 1 tablespoon
Onion paste 2 tablespoon
Turmeric ½ tablespoon
Salt 1/2 tablespoon
Sabzi masala powder 1/2 tablespoon
Mustard oil 10 miligram
Directions:
To make dal cakes, grind the channel dal, garlic and green chilli together. Afterwards heat 1 tablespoon of oil and pour the grounded channel dal in the pan add ½ tablespoon of salt, turmeric and cumin powder each. Sir till the excess water evaporates. Remove the dal on a plate and with the help of a spatula flatten it like a cake and let it cool. Cut squares or triangles from this batter. Heat the remaining oil in a pan or karahi and fry the dal cakes till golden brown.
For the gravy put a tejpatta in the remaining oil followed by oinion and ginger- garlic paste. Sauté for 2-3 mintues.
Then add cumin powder, black pepper powder, sabzi masala and turmeric. Fry the masala till it leave sides.
Add 1 cup of water and salt. Let it boil for 5-6 mintues. Add the dal cakes and let it cook on low flame for 5 mintues. Take it out from fire and Serve it with rice.