Samba Gothumai Idli - Broken Wheat Idli
This dish is very healthy, best for elderly and children, consumes very less oil or you may prepare even without any oil. I learnt this from my mom and I do this dish for breakfast at times, it goes well with any spicy chutney.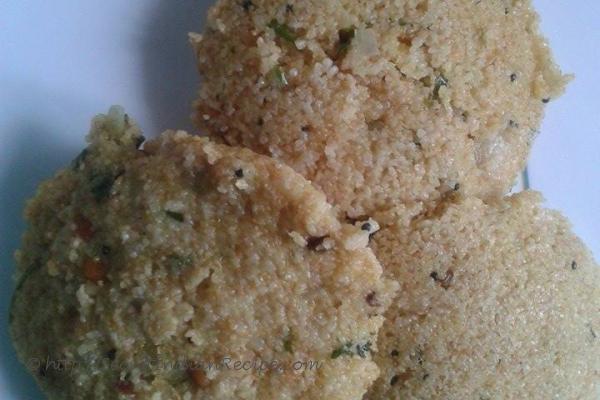 Ingredients:
Samba kothumai (Broken Wheat) - 500 grams
Rice flour (optional) - 1 cup
Curd - 3 cups
Baking soda - 1/2 tsp.
Salt - as per taste
Onions - 2 chopped
Vegetable oil - 2 tbsp.
Mustard seeds - 1/2 tsp.
Coriander leaves - chopped
Cashew nuts - 10 nos.
Directions:
Take a bowl and add broken wheat, rice flour, curd, salt and baking soda, stir it well and keep it aside for 20 minutes
Place a pan on low flame and pour vegetable oil and add mustard seeds and onions, let the onions fry till it changes to golden brown.
Add this seasoning to the broken wheat mixture and stir it well, and keep the batter to rest for 30 minutes.
Apply oil on idli plates, and pour the batter in it.
Place the plates in idli cooker or idli vessel and keep it on flame for about 10 minutes.
To check if the idli is cooked, insert a knife and check if the idli is done. If the flour is not seen on the knife it means the idli is cooked.
Remove it from the plates and serve it with tomato chutney or coconut chutney.
Footnotes:
Do not add water. Let the mixture be thick by adding only curd.