Sambar Recipe
Sambar recipe is a very popular dish in South Indian cuisine. It is served with steamed rice, idli, dosa and pongal.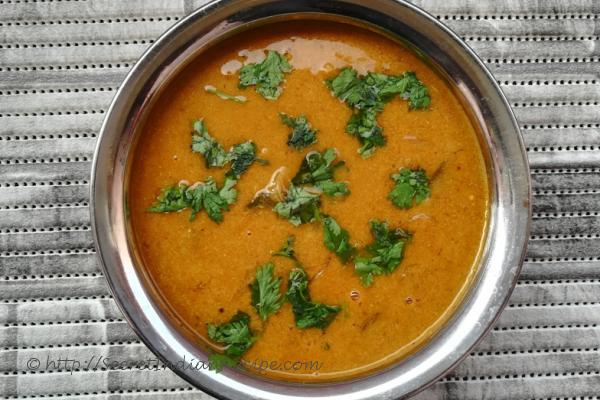 Ingredients:
Toor Dal (thuvaram paruppu) – 1 cup
Tamarind – gooseberry size
Small onion- 12 Nos
Water – 2 cups
Turmeric powder – 1 teaspoon
Castor oil – 1 teaspoon
For seasoning: Oil – 3 spoons
Mustard seeds – 1 teaspoon
Curry leaves – few
Green chili – 2
Sambar powder – 1 spoon
Coriander and curry leaves – for garnishing
For grinding: Grated coconut – 1 cup
Garlic – 4 nos
Cumin seeds – 1 teaspoon
Tomato – 1 (chopped)
Red chili – 3 nos
Directions:
Switch on stove. In a pan add one cup water and allow it to heat.
Wash the toor dal and pour it to the boiling water and add I tsp castor oil.
After 10 minutes add turmeric powder and allow it to cook.
Toor dal becomes mushy. In that stage switch off the stove and keep it aside.
In the mean time dip the tamarind in water. After 10 minutes extract the pulp and keep it aside.
Grind all the ingredients for grinding with little amount of water and keep it aside.
Now, in a pan, add oil and allow it to heat then add mustard seeds and small onion, (for vengaya sambar we use small onions otherwise we use big onion) fry for a minute and then add curry leaves and green chili.
Now add the tamarind pulp, allow it to boil then add salt, Sambar powder.
After 5 minutes add the grinded masala and allow it to boil, the raw smell become disappear.
At last add toor dal and cook for 5 minutes.
Finally garnish with fresh coriander and curry leaves.
Footnotes:
This is a plain Sambar recipe; we can use vegetables also like drum stick, potato, carrot beans, brinjal etc.