Samosa- Almost The Best Home Cooked Recipe!
"What makes a samosa different from an aloo paratha?" I had to ask this basic question in order to come up with a good recipe! Well in my opinion despite the near- similar ingredients in the two, a samosa stands apart due to its characteristic deep-fired, crispy-flaky outer cover and some very unique spices!
Here's a recipe which makes the near best home cooked samosa! Try it and leave any improvements/ suggestions below! Happy winters!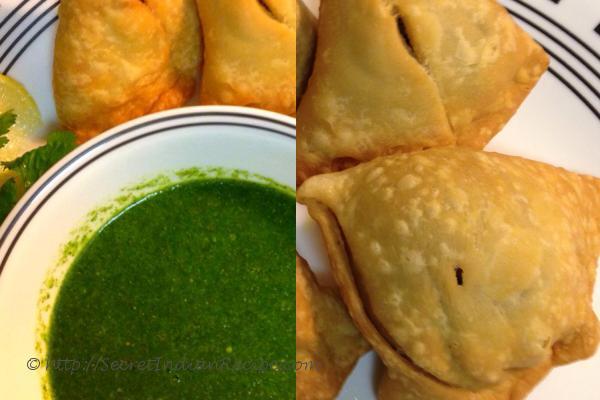 Ingredients:
2 large potatoes- boiled with some salt mashed
4-5 finely chopped green chillies
Masala- all powder n only ajwain corriander are seeds(cumin,corriander,ajwain seedsturmeric,red chilli, anardana, black salt,dry ginger,dry mango)all 1/2 tsp, also a tsp of Coriander seeds
1 liter of oil for frying
Dough: 2 cups of maida, 1tsp salt, 4 big tsp oil, and chilled water for kneading
Directions:
While you potatoes are boiling, knead your dough( maida, salt, oil) using chilled water, the dough should be soft and you should mix oil well before adding water slowly to the mix.keep dough covered with a wet cloth/ kitchen paper towel all time.
While your dough is covered and resting prepare your stuffing. In a non stick pan add 1 tsp of oil/ ghee, on low heat add all the masala fry till fragrant. Add chili and potatoes mash to in and mix well. Before switching off you can add some broken cashew-nuts as well( I do!) let the stuffing come to room temp before starting.
Now as your stuffing cools and you prepare to roll the dough, you should take a big kadahi/ flat bottom pan and add the oil let it heat- always always always keep you heat to a low medium- anything more will blast the samosas or give them a ugly 'pimpled' surface( we don't want that!)
Take a dough ball, roll it in a small circle. Cut diameter, creating two semi-circles, take one of the semicircles in your palm, add water to its edges using your finger tip. Keeping the diameter away from you, fold to make a cone- add a tsp of stuffing seal edges with water and make sure you press and well close any 'joints' else they will open when subjected to heat.. (PS: if you have doubt in this step I will encourage you to see any video on "how to stuff a samosa" it's a simple thing once you watch it but a complicated one to write and explain!)
Prepare all your samosa stuffs, then slowly lower them to your kadahi, making sure the oil is always on med low temp. Forget about it for 15 mins and slowly turn them only once or twice! You will know it's done when they get a lovely golden light brown color! Take out serve with green chutney and tamarind chutney!
Footnotes:
"Chill water to knead, medium low heat to fry"! Use sufficient oil so that the samosa don't touches the bottom of your pan! Don't over crowd while frying Seal the edges firmly so as to ensure nothing leaks It will take 15-20 mins to ready one batch! Have patience!never increase the heat! Anardana- pomegranate seed powder if available at Indian stores- it gives the authentic " punjabi" samosa look and taste to the potatoes! Mayan(oil) in dough is very crucial,4-5 large tsp should be good for 2 cups don't over to it! You can add pinch of soda to the dough, but I don't like it!
For Green Chutney: Take a bunch of fresh corriander leaves, green chilli(5-6), pinch of black salt,1inch ginger,1pinch ground roasted cumin,1pinch of chaat masala and half a lemon juice- grind them all with min water!