Samosa Recipe - Fish And Cheese Samosa
A delicious snacks recipe for your tiffin. Easy and tasty recipe for all. Hot samosas in winter.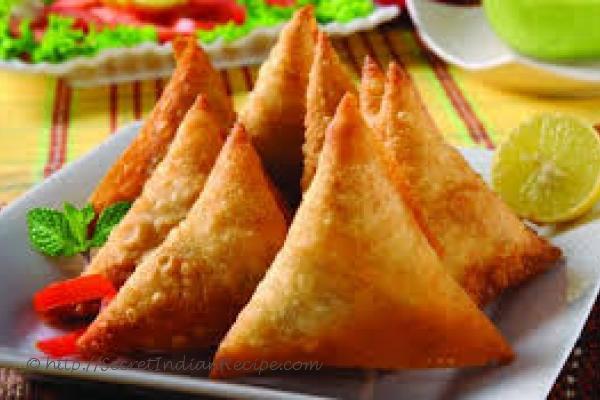 Ingredients:
INGREDIENT FOR STUFFING
Bone less fish filet 3 each 100 gm
Fresh green peas 1 cup
Chopped onion ½ cup
2 green chili chopped
Ginger and garlic paste 3 tsp
Lemon juice 2 tbsp
Garam masala powder 1 tsp
Mint leaves chopped 1 tbsp
Grated Amul or Go cheese 1 cup
Salt to taste
INGREDIENT FOR SAMOSA
All purpose flour 5 cups
Baking powder 1 tspp
Salt 1 pinch
Refine oil 2 tbsp
Oil for deep fry
Directions:
PROCESS FOR STUFFING Cut fish filets into 1 inch pieces, marinate with salt Heat oil in a pan and fry fish pieces until tender to eat In remaining oil, add ginger, garlic paste and peas Add fish pieces, onion, chili and garam masala powder Cook for few minutes Add cheese, mint leaves, salt and lemon juice Mix well, keep the mixture aside PROCESS FOR SAMOSA Mix flour and other ingredients Add water very gradually to get a soft dough Divide dough into 12 balls Roll out each ball Fold in a triangle shape Put stuffing inside Wet your finger tips and join the edges You can use oil if you need Make 12 samosas Heat oil and deep fry samosas or you can use airfryer In case of airfryer, pre heat it and put samosas , set machine for 20 minutes, you need to brush oil on each samosas. Served with your favorite sauce or chutney.