Samudri Methi Bhaji (fenugreek)
Samudri Methi or Samudra Methi is found in Maharatra and it grows near the sea on sandy tracks, hence its known as Samudri(Sea)Methi(Fenugreek). Samudri Methi is very tender compared to regular fenugreek/Methi leaves. The roots of this vegetable can also be cooked along with the leaves.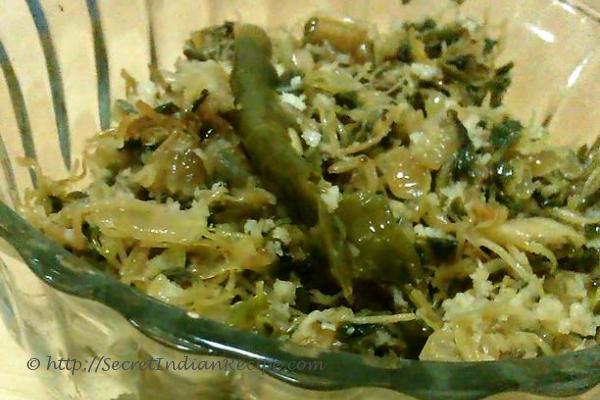 Ingredients:
10 small bunch of Samudri Methi
2 Large Onions Finely chopped
2 Slit Green Chillies
5 Cloves of Garlic (Crushed and finely chopped)
Oil for Cooking
1 Tbsp Sugar
2 Tsp Salt
2 Tbsp grated coconut
Directions:
Clean the methi bu rinsing it with water 5 to 6 times. Samudri Methi has fine sand grains stuck to its leaves and roots and needs to be washed thoroughly with water. Discard only the brown roots as the white roots and stems are edible.
Once the methi is well cleaned drain all the water and chop it coarsely.
In a Pan add oil, once hot add chopped garlic followed by green chillies
Let it cook for a few seconds then add chopped onions and saute till golden brown.
Add the methi leaves cover and cook for a minute.
Add Salt and Sugar and cook for few minutes more. Then add grated coconut and cook covered till methi is soft and tender and all water is evaporated.
Serve Hot with fulkas or rotis