Sanei Ke Phool Ki Sabzi (jute Flower Curry)
Sanei phool is the flower of Jute plant and thus this particular recipe is relished in West Bengal, Bihar and uttarpradesh where jute plantation is carried on. It is high in fibre. As the Sanei phool is a seasonal vegetable at the same time the taste is so unique that it is highly priced.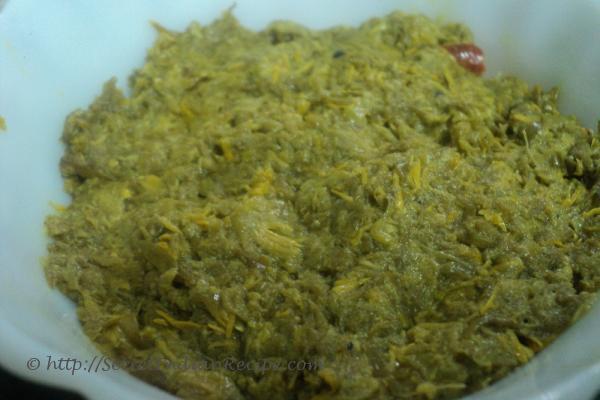 Ingredients:
Sanei Phool (jute flower) 250 grams(9 ounce)
Garlic cloves 7-8 pieces
Whole red chilli 1 piece
Yellow mustard seeds 2 tablespoon
Fenugreek seeds ¼ tablespoon
Mustard oil 5 tablespoon
Salt ½ tablespoon
Water 1 cup
Directions:
Grind garlic, red chilli and mustard seeds together in a paste. Wash the sanei phool with water and take out the stems.
In a pan or Karahi heat the mustard oil and put fenugreek seeds. Let it pop and then add the sanei phool. Saute for a mintue.
Then add the grounded masala, salt and water. Mix well and cover the pan with a lid. Cook on low flame for 20-25 mintues.
Stir in between and check if the sanei phool is done and all the excess water has been evaporated. Put the stove on high flame and mash the sabzi with a spatula till it gets a '' bharta'' like consistency. Serve the sanei phool with Kacche makki ki roti or chappati with a little ghee over it.