Santula (steamed Vegetable Curry)
A savored dish coming from the Oriya kitchen, Santula is considered a great nutritional delicacy. Prepared with a variety of vegetables, less oil and almost no spices, this dish is of great nutritional value. It soothes the test buds as well as suits the stomach. Being very easy to digest, this recipe can be enjoyed even by people suffering from stomach ailments, gastric and digestion problems.
I learnt to cook this recipe from my mother who is a very good cook and a person with great culinary skills. Now I am going to describe the preparation of this delicacy that my mother cooks. I will use the same ingredients that my mother does.
It is best to serve this dish with rice or chapatti at lunch/dinner.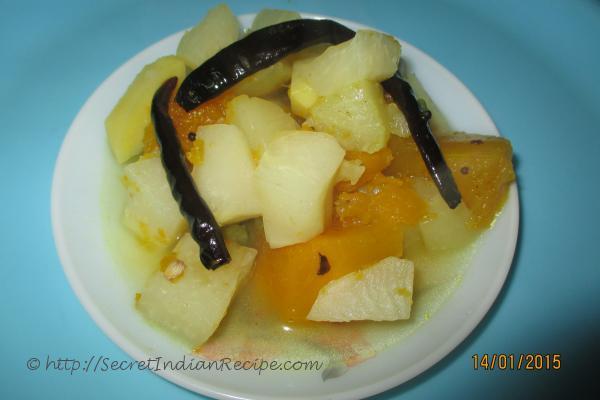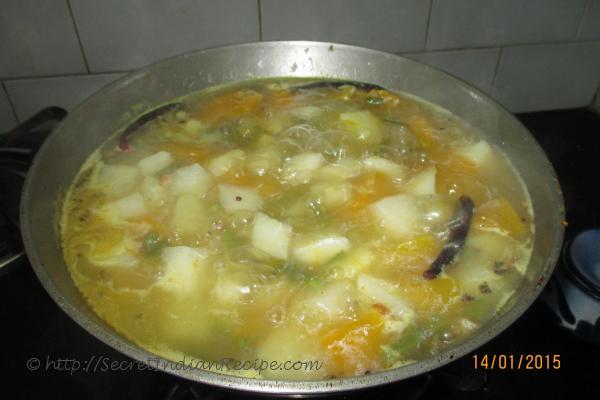 Ingredients:
150 gm of pumpkin
150 gm of raw papaya
2 medium sized potatoes
1 medium size eggplant
1 raw banana
100 gm of beans
1 teaspoon mustard seed
1 teaspoon urad dal (white lentil)
4 red chilies
6 to 8 garlic lobes (chopped)
8 to 10 curry leaves
2 teaspoon oil
2 cup of water
Salt to taste
Directions:
Cut the vegetables. Place a cooker/Kadhai (deep frying pan) on the stove.
Add the vegetable pieces into the cooker or kadai (deep frying pan), add water, salt and allow boiling till the vegetables are got well cooked.
If boiling the vegetables in a cooker, then switch off the stove after two whistles and remove from stove.
Place a kadai (deep frying pan) on the stove and add oil.
When the oil gets heated, add the mustard seeds.
Let the seeds to crackle, and then add urad dal (white lentil), red chilies, curry leaves, chopped garlic and sauté for 2 to 3 minutes till they get roasted.
Now add the vegetables into the pan and cover it with a lid.
If extra salt is needed, you may add to the vegetables now.
Allow it to cook for five minutes.
After five minutes, switch off the stove. Your Santula (Steamed vegetable curry) is ready to taste.
Footnotes:
It is preferable to boil the vegetables in cooker. It saves time. You can put the cut banana pieces into turmeric water (turmeric powder mixed with water) to avoid blackening.