Sarkara Varatti Upperi (banana Chips Coated With Jaggery)
This is another snack prepared during the celebration of the Onam festival. In my childhood days, I saw my grandfather took the charge of the kitchen during the day before uthradam (Utharadam is the day before Onam) to make the sarkaravaratti while my grandmother was busy in helping him. We usually prepare these kinds of snacks during the Onam days, and the preparation of these recipes is yet another festival for us.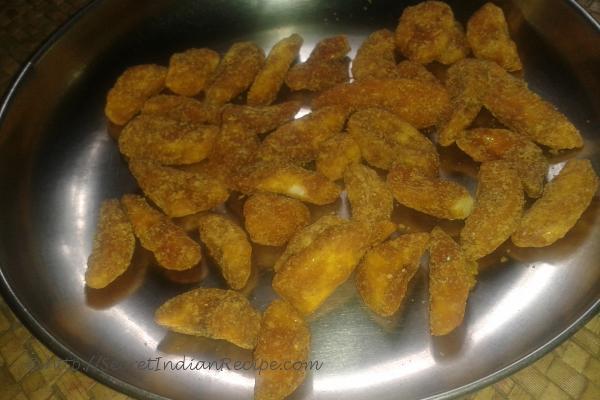 Ingredients:
Raw plantain - 4nos.
Turmeric powder-a pinch
Salt-1/4 teaspoon
Jaggery -1 cup
Dried ginger powder -1, 1/2 teaspoon
Cardamom powder – 1 teaspoon
Cumin seeds -1 teaspoon
Oil – to deep fry.
Water -3 cups
Directions:
In a bowl mix the turmeric powder with water and keep it aside.
Peel off the outer cover of the banana and soak it in turmeric water for about 30 minutes.
Take another bowl and mix together a little water and the salt.
Take the banana from the water and pat it dry.
Cut it along length wise into two.
Then cut it into thick slices.
Place a frying pan on the stove and switch on the stove.
Add oil into the frying pan and heat it.
When the oil is really hot reduce the flame to medium.
Put the banana slices in batches into the oil and stir occasionally to avoid sticking.
When it is half done, sprinkle the water mixed with salt into it.
The sprinkling of water causes the splashing of the oil. So make sure that either you are away from the frying pan or you cover the pan with a lid as soon as you sprinkle water over the chips.
Stir and fry until all the water content in the bananas evaporates.
When the chips make a crispy sound when stirring, remove it from the oil and let it cool down completely.
In the meantime, heat jaggery in a thick bottomed pan with water until the jaggery melts.
Strain this syrup to remove any impurities in jaggery.
Now reheat the syrup until it reaches a thick consistency (one thread consistency).
Now add the ginger powder, cardamom powder and cumin seeds and stir well until all the banana chips are well coated with jaggery.
Remove it from flame and allow it to cool completely.
Tasty sarkara varatti upperi is ready.
Footnotes:
The right consistency of the jaggery is that when you pour a drop of jaggery in the cold water, it will not dissolve but forms a pearl shaped drop.