Sarson Aloo Bhindi (okra With Potatoes In Mustard Curry)
Anyone who loves the flavour of mustard will love this Indian curry. This is a family recipe, passed down to me by my mother in law. Mind you, these are not subtle mustardy flavours, this curry is full on mustardy...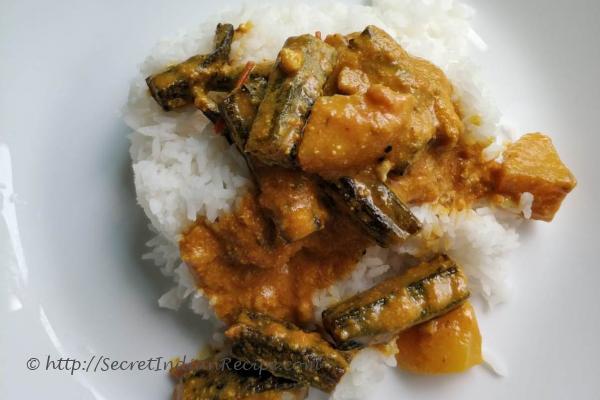 Ingredients:
Potatoes : 2 nos
Okra (Bhindi) : 500 gms
Mustard Oil For cooking : 4 tbsp
Green chilies : 2 nos
Poppy Seeds (posta) : 2 Tbsp,
Yellow mustard : 2 tbsp
Salt to taste
Water as needed
Tomatoes : 2 Nos
Directions:
Cut the okra (bhindi), keep the pieces long. Chop potatoes in medium cubes. Finely chop the tomatoes
Soak mustard seeds and poppy seeds together for 2 hrs
Heat mustard oil, add the okra with a little salt and cook it till all its slimy-ness fades away.
While the okra is cooking take poppy and mustard seeds, green chilies and a little salt. Grind this mixture into a smooth paste.
Once the okra has cooked well, add the chopped potatoes and cook covered on medium heat.
Let the potatoes cook slightly, now add finely chopped tomatoes and add salt as needed
Add the ground mustard-poppy seed paste. Mix everything well and cook covered on medium heat for about 5 mins. Keep mixing in between.
Now add water (approx 1/2 cup for thick saucy consistency) and mix well
cook covered for another 5-10 mins, turn off the heat. The dish is ready!
Serve with rice with achar on the side..