Sarson Ka Saag In Punjabi Style (punjabi Style Mustard Leaf Curry)
Sarson ka saag is generally known as Indian Punjabi recipe and I used to believe the same until last year when I had Sarson Ka saag in Uttar Pradeshi Style. I guess this labelling of Sarson ka saag as Punjabi recipe is due to the fact that it is widely grown in Punjab and it is the Punjabi population who have travelled and migrated to different parts of the world to make a living. With time, they not only created their own identity but also popularized their food. The best thing about Punjabi Style of Sarson ka saag is it is a combination of three greens – Palak (Spinach), Bathua (Pigweed) and Sarson (Mustard) and all these three greens are blended in such a way that you actually cannot differentiate the taste of individual greens. It is usually served with Makki Ki roti and it is winter special recipe.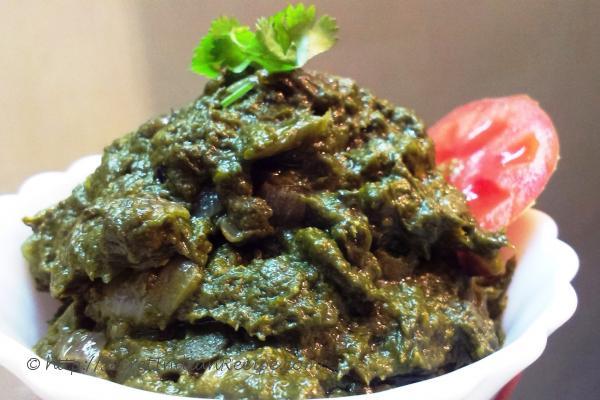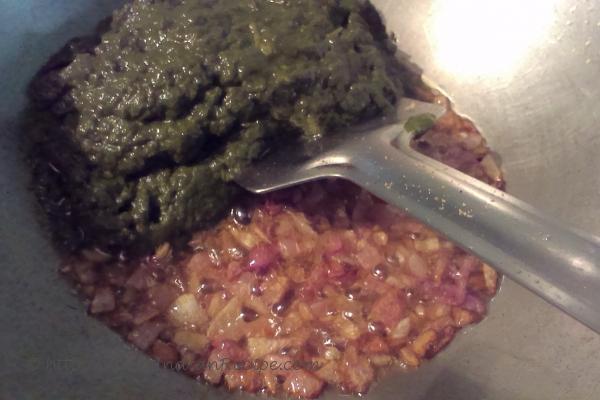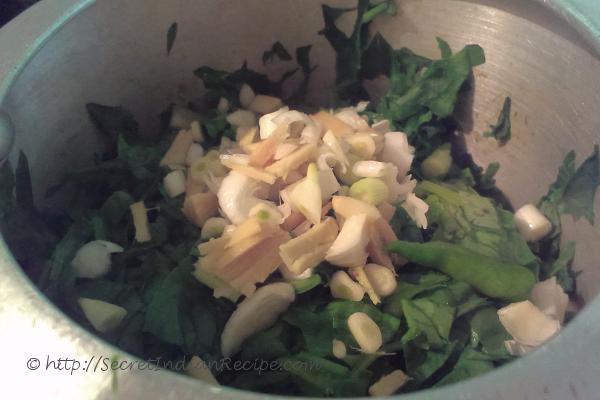 Ingredients:
Sarson ka saag (Mustard leaves) -500 grams
Palak (Spinach) – 200 grams
Bathua (Pigweed) – 200 grams
Garlic cloves – 5-6 cloves
Ginger – 1 inch piece
Green Chillies – 4 pieces
Onion – 2 Small sized (Chopped finely)
Hing (Asafoetida) – a pinch
Ghee – 2 tablespoon
Maize flour – 1 tablespoon
Sugar - a pinch
Red chilli powder – 1 tablespoon
Turmeric powder – a pinch
Directions:
Wash the Sarson, Palak and Bathua leaves in water for three to four times and then chop them finely.
Put them in a pressure cooker along with chopped garlic, ginger and green chilies and pressure cook them for2 whistles.
Open the cooker as the steam escape nad let it cool. Once cooled put the entire content in grinder and grind for few seconds……..You need to squeeze the water out of the leaves or else it will become too watery.
Now heat ghee in a pan and season it with hing. Add the chopped onions and fry till they start browning. Now pour the grounded saag paste and mix. Add turmeric, red chilli powder, sugar, salt and maize flour and sauté the saag for 5-6 mintues on low flame.
Serve hot with Makke ke Roti.