Sarson Ka Saag In Uttar Pradeshi Style (indian Side Dish Made Of Mustard Leaves)
Makki di Roti and Sarson Da Saag is quite popular Indian Punjabi recipe. It is a winter food as Sarson (Mustard) and Makki (Maize) are cultivated in India during winter season. The very first time I had this was in a roadside Dhaba on my way to Chandigarh when I was 12 years old. I was a little skeptical the way it was presented to us….It was laid on a steel plate, the roti and sarson ka saag was really hot and it had small portions of pickle and crumbled onions on one side. I first looked at the plate and asked my Brother (who had been to Chandigarh many times) What it this?....There is no vegetable in it?....My brother started laughing and said, 'It is Sarson ka saag' ' It is their vegetable'…..and he persuaded me to finish it. I did not like it so much but I really liked the Mustard green colour of the saag. Actually after eating it over the years I have started liking it. Then Last winter I went to see my Nani (Grandmother) in Uttar Pradesh and one night, they served Makki ki roti with Sarson ka saag for dinner. The taste was a little different and I was curious to know the reason…..My Masi (Mother's sister) told me that unlike Punjabi sarson ka saag, which has Spinach and Pigweed , In UP it is made of only Mustard leaves and to combat the pungent taste of the leaves cashew paste is added. So here goes the recipe for Sarson ka saag in UP style.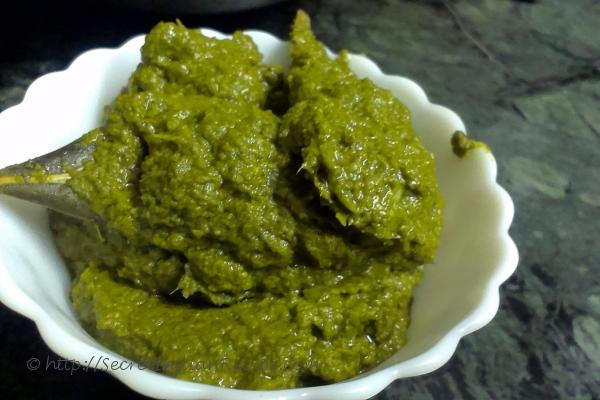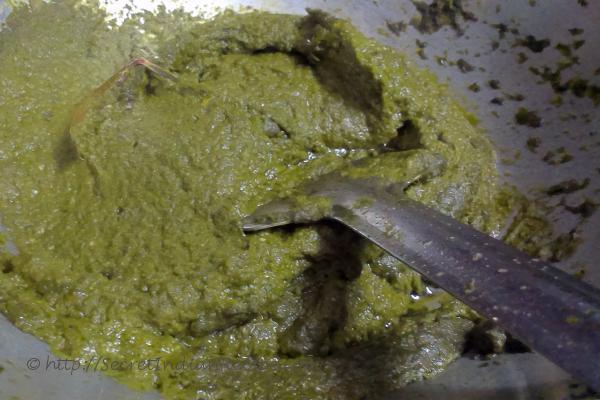 Ingredients:
Sarson ke patte (Mustard leaves) – 250 grams
Onion – 2 medium sized
Ginger – 1 inch piece
Garlic – 5-6 cloves
Green chillies – 2
Cashew – 10 pieces
Bay leaves – 2
Garam masala powder – 1/4 tablespoon
Refined oil – 4tablespoon
Ghee – 2 tablespoon
Salt – to taste
Directions:
Wash the mustard twice with water and then chop in small pieces. Switch on the gas and place a pan with chopped mustard leaves in it. Keep the flame low and cover the pan with a lid. Let it cook and become soft in the water released by the leaves. It will take approximately 15 mintues.
Remove the pan from gas and let it cool.
Afterwards take onions, ginger, garlic and green chillies in a grinder and grind them into a smooth paste. Similarly take cashew, add some water and make a cashew paste.
Once the Mustard leaves cool down, put them into the grinder and make a paste.
Heat oil and 1 tablespoon of ghee in a pan. Add the bay leaves. As they start browning, add grounded onion, ginger garlic and chillli paste and fry till the raw smell of the masala evades. Now add the Mustard leaves paste and cashew paste and mix.
Let the curry simmer on low flame for 10 - 12 mintues. Then add the Salt and Garam Masala powder and cook for another 2 mintues.
Finally add the 1 tablespoon of ghee and switch off the gas. Serve it with Makki Ki Roti.