Sattu Ka Paratha (indian Bread Stuffed With Roasted Gram And Spices)
Sattu or powdered roasted grams is one of the most healthiest foods on earth. Its packed with nutrients and tastes great. Sattu is authentic to the state of Bihar, and Sattu ke parathe is a wholesome breakfast option. Sattu can be easily available at any grocery store. However if you cannot get it near your house, you can easily prepare it home by grinding roasted chana dal to a fine powder.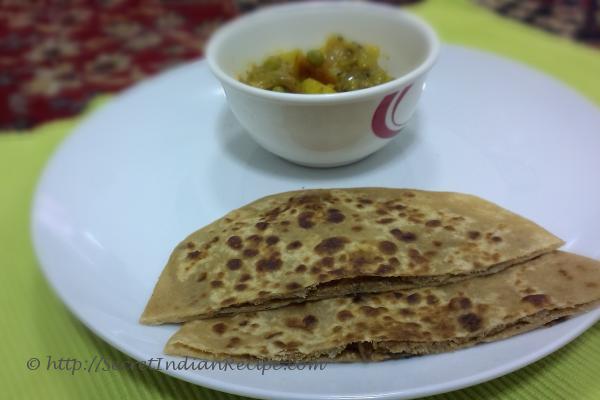 Ingredients:
FOR STUFFING ::
1 Cup Sattu (Powdered Roasted Chana Dal)
1 small onion finely chopped
1 green chilly finely chopped
Pinch of turmeric powder
1/4 tsp ajwain seeds
1/4 tsp onion seeds
1 Tbsp mustard oil
3/4th tsp salt or to taste
2 Tbsp Pickle masala (Any pickle oil and masala) or 1tbsp Lemon juice
1 tsp grated ginger
1 tsp coriander leaves
FOR PARATHA
2 Cups Wheat Flour
Water for kneading the dough
1/2 Tsp oil
1/2 tsp salt
Directions:
In a Bowl, mix all the ingredients mentioned under for stuffing section. Mix well and add a little water to bind the stuffing. The cosistency shuould be enough to bind the stuffing together
For parathas, take wheat flour, add oil and salt. Adding a little water at a time knead to pizza dough consistency.( a litte firmer)
To make parathas, make small rounds of the dough (about lemon size). Roll it a little using a rolling pin and dusting with dry flour.
Place a spoonful of stuffing in the centre of the rolled out dough. Bring the edges together to form a smooth round ball.
Dust with dry flour and roll it out nice and round.
Place the paratha on a pan, gently drizzle oil on the paratha and the sides. Let it cook evenly from both sides till nice golden brown
Serve hot with baingan ka bharta or curd
Footnotes:
You may also add garlic to enhance flavour