Sattu Paratha With Baingan Aloo Tomato Chokha ( Roasted Gramflour Stuffed Paratha)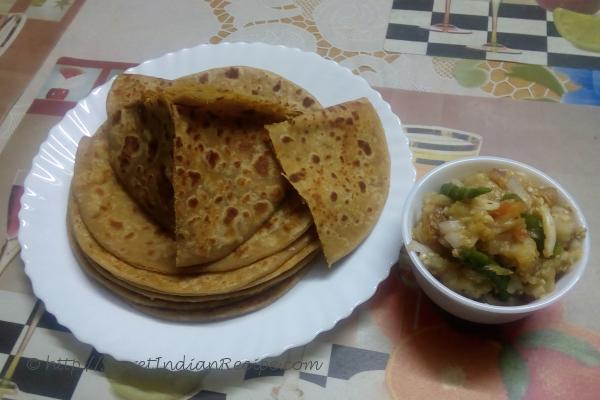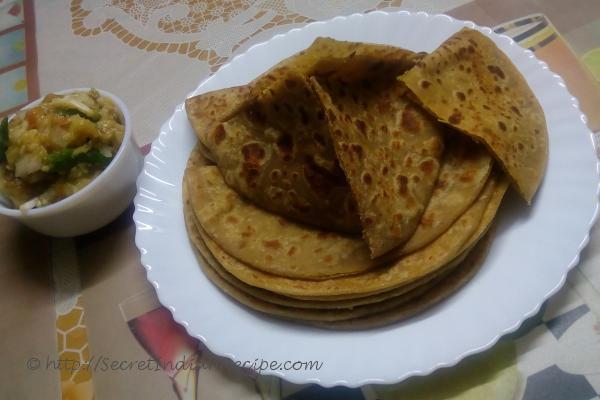 Ingredients:
1 cup Sattu (toasted Gram flour)
2 Medium onions minced
1 pod Garlic Minced
4-5 Green chillies minced
Salt to taste
1/2 Tsp Turmeric Powder
1 Tbsp Mustard Oil
1 Tsp Ajwain
1 Tbsp Lemon Juice
1/2 Tsp Chilli Powder
Oil for frying Parathas
2 Cups Wheat Flour
Water for kneading the dough
Directions:
Take sattu in a bowl. Add salt, mustard oil, ajwain, turmeric powder, chilli powder & mix well.
Add minced onion, garlic ,chillies & lemon juice. Cover it and mix well
Take 2 cups whole wheat flour , add 1 Tbsp oil and salt .Mix well. Make a soft dough. Make 12-14 balls out of it.
Take the sattu mixture & mix it. Make 12-14 balls out of it.
Shape the Atta dough and stuff the sattu balls in it. Roll it with help of dry wheat flour.
Heat a tawa , put the paratha on it and fry it with some oil until light brown.
Serve it with baingan aloo tomato chokha
Recipe for baingan aloo tomato chokha: 1 Bharta Baingan, 1 Tomato, 1 Boiled potato, 2 chopped green chillies, 8 Garlic flakes chopped, 1 chopped onion, 1 Tbsp Mustard oil, Salt to taste. Bake the baingan & tomato. Boil potato & then the skin off. Mash all these & add onion, Garlic, green chillies, mustard oil & salt. Mix well