Satvik Malai Besan Mix Veg (mix Veg Creamy Gram Flour Curry)
In Rajasthan, many people follow a satvik diet (preparations which don't include onion and garlic) and generally I am in a dilemma if any guest turns out to be a strict follower of satvik food. Recently, my mother taught me this wonderful recipe that can be easily made for satvik guests and looks as fabulous as any rich creamy mix veg korma. Besides cream, the flavor of the sabji is highly enhanced by the aroma of roasted gram flour adding a zing to its consistency and taste.
The curry made by me however, lacks the creamy consistency as I am bit calorie conscious and mostly prefer less cream and oil in my sabji. But I am 100% sure that your guests will be highly impressed by your culinary skills if you present such a rich gravy preparation minus onion and garlic.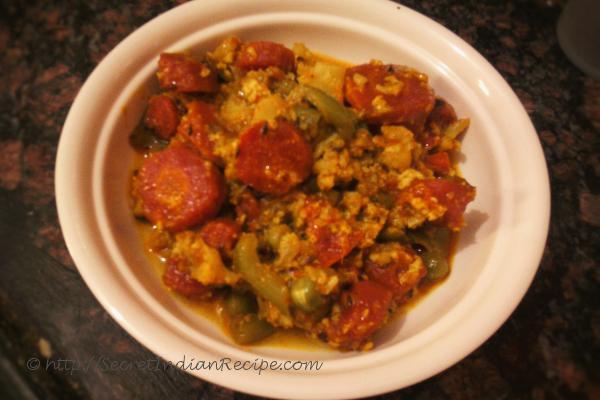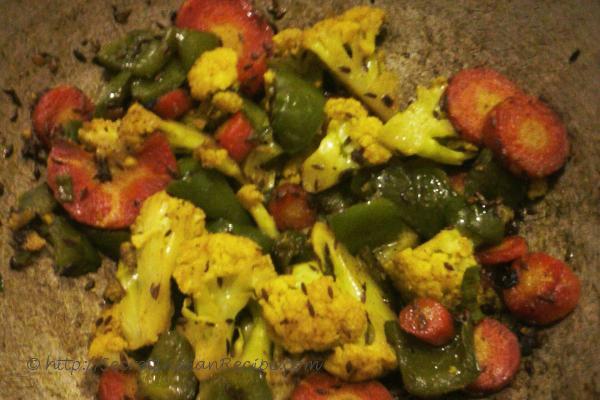 Ingredients:
Cauliflower - 1 medium-sized (thickly chopped)
Carrots - 2 medium-sized (thickly sliced)
Capsicum - 1 medium-sized (thickly chopped)
Fresh Cream - 200 gms
Roasted Gram Flour - 1/2 cup
Green Chilies - 1 (finely chopped)
Cumin Seeds - 1 tsp
Asafoetida - 1 pinch
Turmeric Powder - 1/2 tsp
Coriander Powder - 1 tsp
Red Chili Powder - 1/2 tsp
Shahi Garam Masala - 1 tsp
Oil - 2 tbsp
Salt to taste
Directions:
Heat oil in a kadhai and add cumin seeds.
As soon as it splutters, add pinch of hing and green chilies.
Add turmeric powder and put all the vegetables and saute well.
Add salt as per taste and cover the kadhai with a lid.
Let the vegetables cook in the oil for around 15 min.
Keep checking and saute in between to avoid sticking of vegetables.
As soon as the vegetables become tender, add coriander powder, red chili powder and shahi garam masala.
Add the roasted gram flour and mix well.
Allow the gram flour to incorporate well with the vegetables by cooking it covered on low flame.
Now add the fresh cream in the kadhai and saute on low flame for around 2 min.
Cook till the cream melts and coats the vegetables well.
Remove from flame and serve hot with rotis and parathas.