Saunfia Grilled Chicken ( Grilled Chicken With Aniseed)
Inspired by the Saunfia chaman this recipe is a tribute to the Kashmiri cuisine. It has aniseed which is a key ingredient in the Kashmiri cuisine. Ideally barbecued this dish can also be pan fried or grilled in a microwave oven. The same recipe can be used for paneer or potatoes so the vegetarians need not feel left out.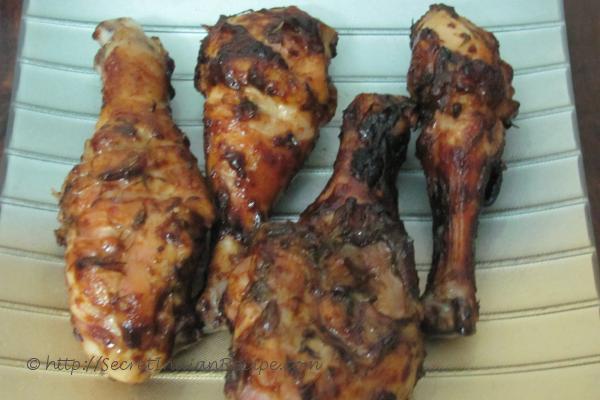 Ingredients:
Chicken drumsticks- 6
Aniseed powder- 2 tbsp
Minced Garlic- 2 tsp
Minced Ginger- 2 tsp
Curd- 1/2 cup
Lemon juice- 1 tbsp
Salt- to taste
Turmeric powder- 1/2 tsp
Chili powder- 1/2 tsp
Oil- 2 tbsp
Directions:
Make incisions on the cleaned chicken with a knife and marinate the chicken with minced ginger, minced garlic, lemon juice , chili and turmeric powder for 30 minutes.
Do not add salt at this point because it will release a lot of water from the chicken into the marinade.
After 30 minutes add the curd and aniseed powder and now add salt. Marinate the chicken for 6 hours or overnight.
If using a barbecue grill heat the grill and place the chicken drumsticks over the fire. Baste the chicken with some oil mixed with lemon juice.
If using a microwave grill preheat oven at 200 degrees and grill the chicken drumsticks in a pan coated with oil for 15- 25 minutes.
If cooking the chicken on stove top heat some oil in a pan and shallow fry the chicken. Serve with some mint-coriander chutney.
Other Indian Recipes that you may Like !