Savory Vermicelli
We have been using Vermicelli for making pudding mostly , here I bring you the another savory flavor of vermicelli that goes super delicious either on breakfast or evening snacks . It's very similar to garlic Spaghetti infact both are cooked the same way but vermicelli is easier to handle fast .
To make this dish healthy , I have substituted few ingredient with more nutritive value . I have used wheat based Vermicelli and replaced normal cooking oil with Olive oil .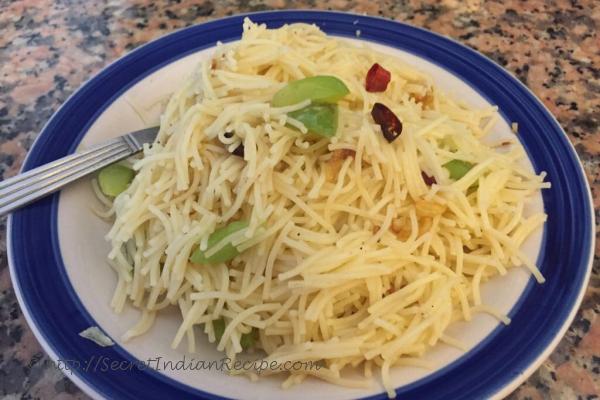 Ingredients:
2 cups of Wheat based Vermicelli
3 cloves of Garlic finely chopped
2 Red chili finely chopped Or chili flakes
Some chopped Capsicum
2 tbsp Olive oil to cook
Salt and Black pepper as per taste
4 cups of Water
Directions:
In a shallow pan or sauce pan, pour the water and bring it to boil, add vermicelli to boiling water and cook for 5 to 10 mins on medium heat .
Using a mesh sieve, drain the water from vermicelli ( we need to be careful while poring out hot water ) and keep it aside .
Place frying pan on stove on medium heat and add oil . Don't overheat oil as it will spoil the taste . Gently add chopped red chili and garlic . Let it cook open for 2 mins until garlic turns golden brown. Now add chopped capsicum and cook open for 2 more mins
Add boiled vermicelli , give it a good stir for a min and switch off the flame
Sprinkle salt and black pepper as per taste .
Footnotes:
I have used Capsicum for this recipe but it can be loaded with veggies of personal choice to make this even more nutritious and flavorful.