Schezwan Sauce (chili And Garlic Sauce For Indian Chinese Dishes)
A yummy spicy saucy Schezwan recipe to take your Chinese dishes to a great next level. This sauce can be used for schezwan fried rice, schezwan noodles, chicken schezwan dishes and many more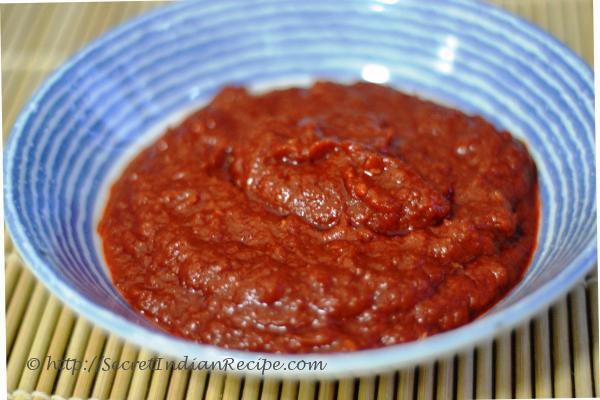 Ingredients:
100 gms Chopped tomatoes
1/2 Cup Vinegar
100 gms Finely chopped Onions
50 gms Garlic
14 - 15 Red Chilies
Salt to taste
2 Tbsp Sugar
1/2 Cup Oil
Directions:
In a wok or pan heat oil. Add chopped onions and tomatoes. Let them cook on medium heat till soft
While the onions and tomatoes are cooking, blend the garlic and chilies into a smooth paste. Use a little water
Add the chili-garlic paste to tomato-onion mix, add vinegar followed by salt, sugar
Keep stirring occasionally
Let the mixture cook till oil separates and starts to float on top.
Turn off heat and let the sauce cool down
Transfer the sauce into an air tight container. Keep it refrigerated.
Cook up delicious Indo-Chinese recipes using this Schezwan sauce.
Footnotes:
The sauce can be preserved for over a month.