Sem Aloo Aur Sua Ki Sabzi (lima Green Beans And Dill Leaves Fry)
This recipe reminds me of a story of a small boy from my Hindi textbook in school. The boy had a Sem or Lima beans plant in his backyard. The story was how he used to get annoyed when his neighbours, relatives and even friends would come to his house and ask for sem phalli…a vegetable he never wanted to taste. Then one day he heard his parents discussing that they would leave their house and move to city as his father got a very good job. That was the day, he cried under the sem phalli tree because he would miss his days playing under its shade.
We often realize the value of a thing when it is gone. Coming to this particular recipe, the secret agent is definitely the sua saag or dill leaves which has a very unique flavor. Adding garlic and use of mustard oil raises the spiciness level. You can add chilies as per your taste and enjoy this simple winter side dish with Chappati or Rice and dal.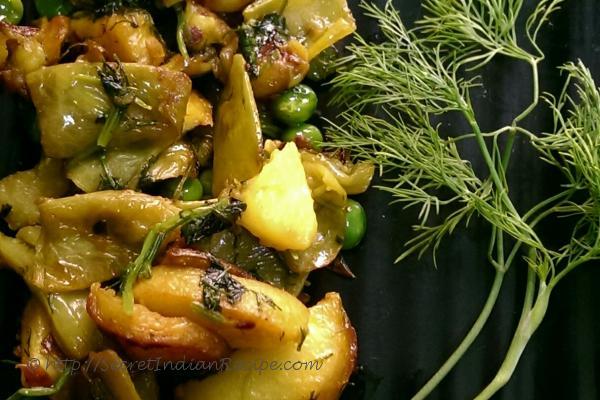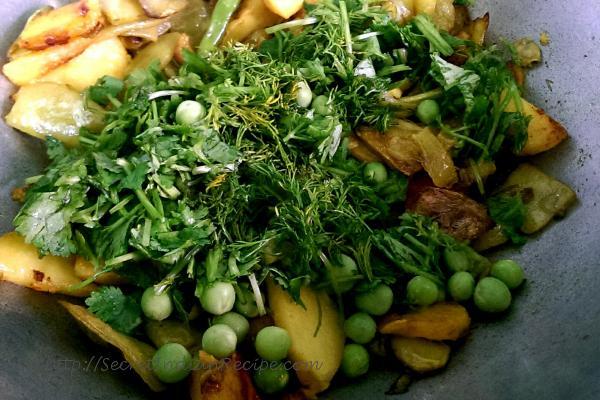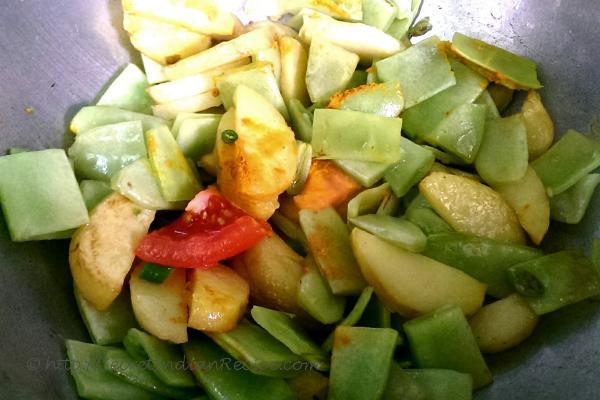 Ingredients:
Sem Phali (Lima beans or Fava beans) – 200 grams
Potato – 2
Green peas – as per your preference
Tomato – 1 small sized
Green chilies – 1-2 as per taste
Garlic pods – 4-5
Turmeric powder – ½ teaspoon
Sua or Sova ( Dill leaves) – ½ bunch or ½ cup chopped
Green Coriander leaves - 2-3 tablespoons chopped or more as per your taste.
Salt to taste
Mustard oil – 5 tablespoons
Directions:
Begin by cleaning and chopping the veggies. For Sem phalli chop off the two pointed ends and remove the side and then chop in small pieces.
For Potatoes, peel and chop them into ¼ inch slices.
Heat oil in a pan and first add the Potatoes. Cook over medium heat till they start browning from sides.
Add chopped Sem, Green chilies and Tomatoes. Mix well.
Add crushed garlic, turmeric powder and salt and cover the pan with a lid. Turn the flame low and cook for 10 mintues or till they are almost cooked.
Put Green Peas to add colour and taste but it is optional.
Finally add chopped Sua or dill leaves and chopped coriander leaves. Mix well. Cover and cook for 5-6 mintues or till the veggies are cooked well and turn a little brown.
Serve hot with Chappati or Rice and dal.