Sem Aloo Ki Subzi (broad Beans And Potato Stir Fry)
Lima beans or Sem aloo ke sabzi is a simple and delectable side dish. Like other green beans these are rich in fiber and other nutrients. I just love to have his recipe. The young tender beans taste the best. As Lima beans are firm in texture hence requires proper cooking time, to overcome this step, you can cook it in pressure cooker also. This Sem Aloo ki Subzi can be paired up with hot rice or dal.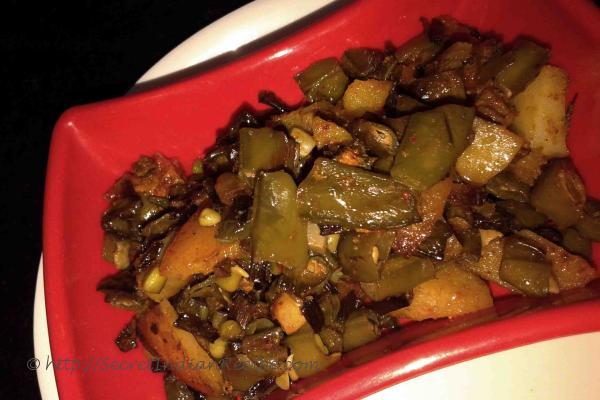 Ingredients:
Beans – 3 cups (chopped)
Potatoes - 4 pieces (Peeled and cubed)
Tomato - 1 piece (chopped)
Green chillies - 2-3 pieces (chopped)
Cumin seeds - 1/2 teaspoon
Turmeric powder - 1/2 teaspoon
Coriander powder - 1 teaspoon
Red chilli powder - 1/4 teaspoon
Mango powder - 1 teaspoon
Garam masala - 1 teaspoon
Salt to taste
Vegetable Oil - 2 tablespoon
Directions:
In a pan or wok heat oil.
Once oil gets hot, add cumin seeds, as soon as they start crackling add the green chillies.
Add the chopped potatoes, beans and some salt.
Mix well, cover the pan and cook it till potatoes and valor are tender and cooked.
Check by inserting knife or fork, if it inserts easily then it is cooked. As valor cooks it also gets lighter in color.
Now add salt, turmeric powder, red chili powder and mix well.
Add chopped tomatoes and stir well.
Cover and cook on low heat for another 2 minutes.
After the vegetables are done, add garam masala and mango powder and mix it well.
Serve hot with roti or rice.
Footnotes:
Choose soft sem while buying. Avoid the hard ones.