Sem Ki Sabzi (double Beans Curry)
Double beans in the dried form is rarely cooked in Kerala where I belong to. But in Chennai and Bangalore this is one of the most popular curries served in vegetarian families for special occassions. It has a status akin to paneer, soya, mushroom or baby corn for that matter. This curry is a bit sweet but it tastes wonderful. It tastes like meat or the masala base we use, makes it taste this way. It is also quite expensive when compared to other beans and is also added to pulaos and veg biriyanis in the South of India.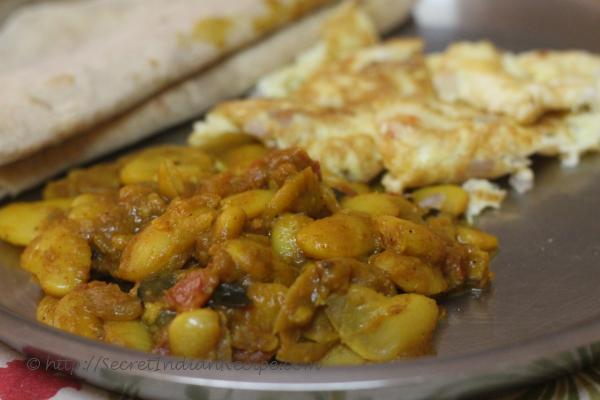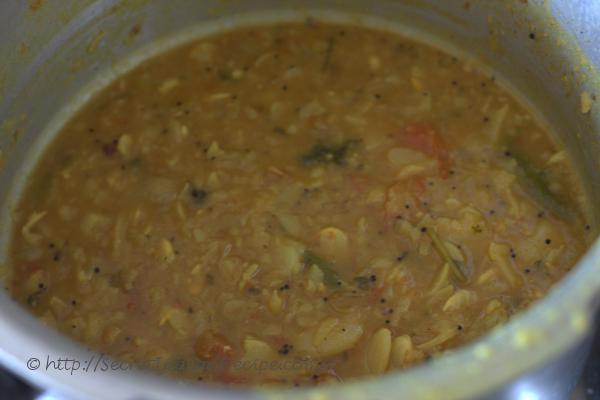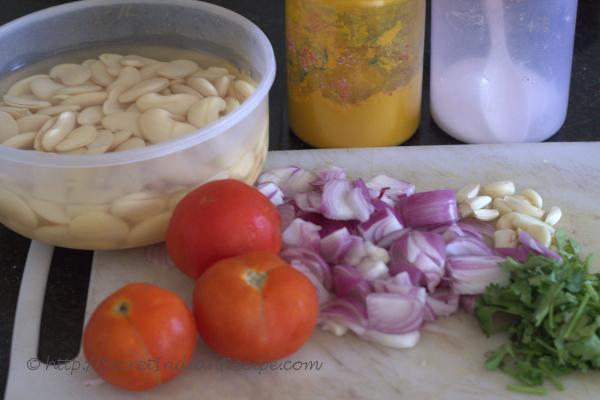 Ingredients:
Double beans- 200g
Onion-2
Ginger- 1 inch piece
Garlic- 7 cloves
Green Chilies- 3
Turmeric powder- 1/2 tsp
Garam Masala- 1/4 tsp
Chili powder- 1/2 tsp
Tomatoes- 2
Salt- to taste
Oil- 2 tbsp
Cumin seeds- 1 tsp
Coriander leaves chopped- for garnish
Directions:
Soak the double beans overnight after washing it twice.
By morning you will see the outer peel of the beans peeling off. Wash and pressure cook the beans up to two whistles with a pinch of salt and 2 cups of water.
Heat oil in a pan and add the cumin seeds. When the cumin splutters, add the chopped onions. Saute till the onions are translucent.
Add the minced ginger and garlic after this along with sliced green chilies. Saute till the garlic browns.
Add turmeric and garam masala and saute for 2-3 minutes. Add finely chopped tomatoes now followed by salt and cook the tomatoes till they wilt.
Add the cooked beans at this point and cook them with the spices for 10 minutes. Garnish with coriander leaves and take the curry off the stove after this.
Serve with rice, rotis.
Footnotes:
Alternately, you can start with sauteing the spices and throw in the beans and pressure- cook this curry instead of doing this in two parts.