Sem Phalli Aur Aloo Ki Sabji (broad Bean Curry /green Fava Beans With Potatoes)
Sem ki phalli (Sem beans), also known as indian broad beans in English, surti papdi or valor papdi in gujarati. It's a seasonal vegetable, available during the winters and I do make them often in this season. These beans are rich in fibre, vitamin A, vitamin C, vitamin K. Sem beans are usually chopped in small pieces and cooked with potatoes and taste delicious. I usually cook them in pressure cooker and make a curry with little gravy.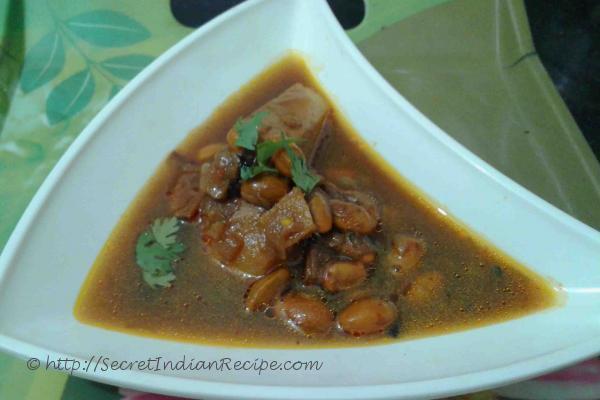 Ingredients:
Sem beans – ½ cup
Potato – 2-4 pieces (diced)
Onion – 3 pieces (chopped)
Tomato – 2 (chopped)
Ginger - 1/2 teaspoon (grated)
Green chillies – 2 pieces (chopped)
Coriander powder - 1/2 teaspoon
Red chilli powder - 1/4 teaspoon
Kashmiri lal Mirch powder - 2 teaspoon
Turmeric - 1/2 teaspoon
Oil – 4 tablespoon
Salt to taste
Water – 2 cups
Finally chopped coriander leaves for garnishing
Directions:
Heat 3 tablespoon of oil in pressure cooker.
Once hot, add chopped onion, green chillies, ginger and sauté until golden brown.
Add turmeric, kashmiri lal mirch powder, red chilli powder, coriander powder and stir well for a minute.
Add chopped tomatoes, Sem phalli, diced potatoes and salt in it.
Cook on medium heat for 3-4 minutes or till the fat leaves the sides of the cooker.
Add the water and stir well.
Close the lid and cook on high flame and wait for 2 whistles.
Now lower the flame and cook for another 10 minutes.
Open the Pressure Cooker once the pressure has gone.
Make sure beans are well cooked else cook for 1 more whistle on low flame.
Take it into serving bowl and garnish with chopped coriander leaves.
Tasty Broad Bean Curry is ready to serve.