Semolina With Potatoes (aloo Bath)
Sometimes I need an alternative to Rice and Roti. This is when Aloo bath comes in. Especially if I have made my Goan Meat Ball curry (the recipe is here too :) This is so simple, but so yummy to eat, quite frankly for any meal. Serve it for breakfast with a wedge of lime if you like a little tang, for lunch with curry or for dinner by itself with your vegetable of choice.
Just be very vigilant while you are dry roasting your semolina, it does have a tendency of going brown super quick so do not leave it unattended. Also, as soon as you see the gold colour you like, transfer it from your pan into a plate. If you leave it in the pan it will burn, trust me, I learnt the hard way!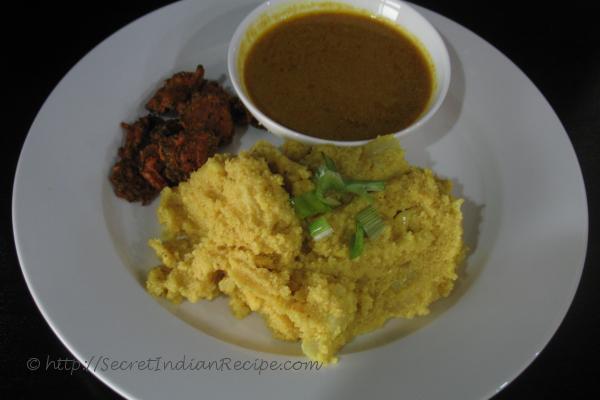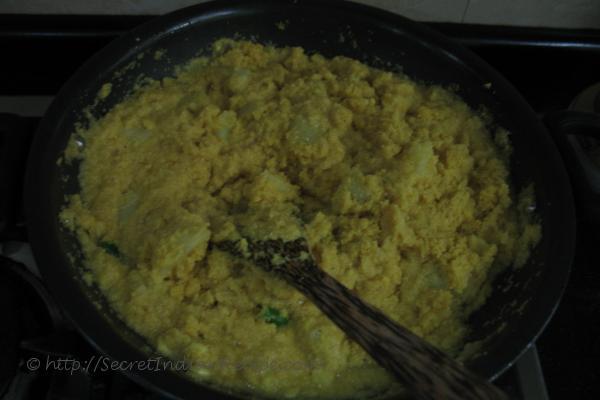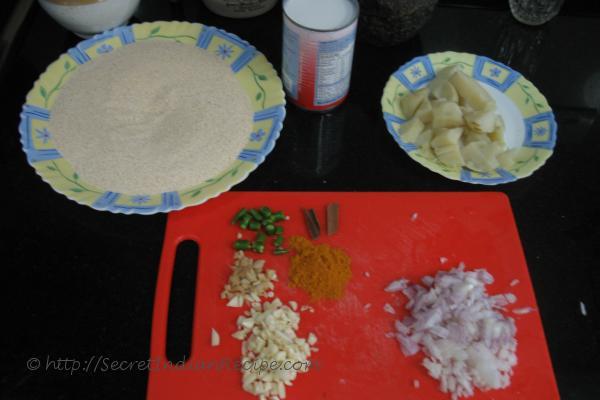 Ingredients:
1 and 1/2 cup Semolina, dry roasted
1 and 1/2 cup Coconut Milk
1 and 1/2 cup Water
1 Large Onion, Chopped
10 cloves of Garlic, minced
2 Chillies, Chopped
1 tsp Turmeric Powder (Haldi)
2 inches Cinnamon
1/2 inch Ginger, Minced
2 small Potatoes, Boiled and cubed
Salt to taste
1 tbsp Oil
Directions:
Heat a little oil and fry the onion till golden brown.
Add the ginger, garlic, cinnamon, chillies, turmeric, coconut milk and water, excluding the Semolina and potatoes and bring it to a boil. Salt this liquid to taste because after you add the semolina it will be difficult.
When it comes to a boil, add the semolina and potatoes and stir continuously. Be watchful, the semolina absorbs the liquid very quickly.
Switch off the flame when there is no liquid left and cover it immediately for two minutes.
Remove the lid after two minutes and fluff it with a fork.
Serve hot with a little curry and something crunchy. Enjoy!