Sev Puri (indian Canapes: A Popular Chaat From Streets Of Mumbai)
Sev Puri is one of the most popular street foods in India. The flavors of sev puri vary from city to city within the country, but the basic ingredients remain the same. The two main ingredients in this dish are Sev and Puri. Sev are extremely thin crisp noodles and puri is a thin flat crisp taco like snack. The idea is to top the crisp taco with some sweet, spicy, savory and sour flavors and garnish it with loads of sev. Here is my version of the Mumbai style Sev puri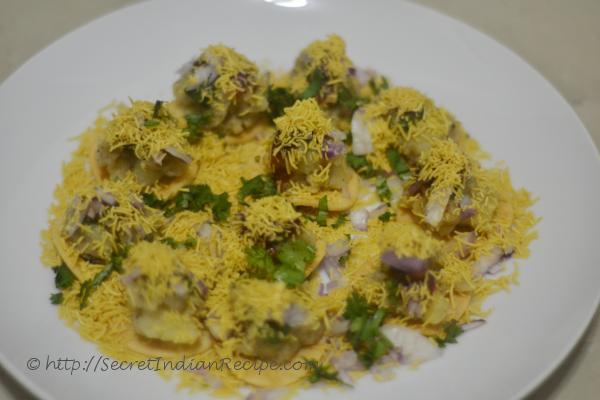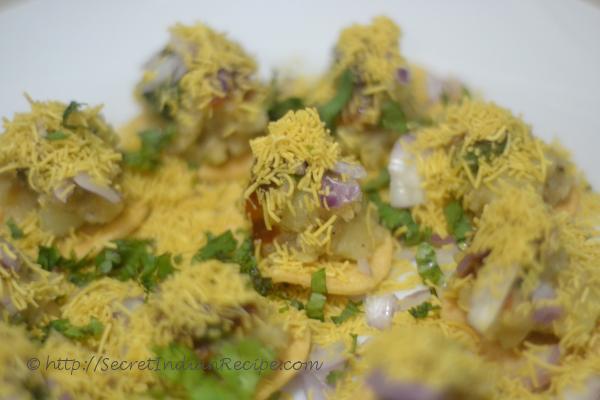 Ingredients:
Puri: 1 packet or 24 Puris
Nylon Sev: 1 Packet or 2 cups
Onions: 2 finely chopped
Tomatoes: 2 finely chopped
Potatoes: 2 Boiled and mashed using hands
Coriander: 1/2 bunch finely choppped
Chaat Masala: 1 to 2 tbsp
Black salt: 1 tbsp
For Green Chutney::::
Coriander: 1/2 bunch
Mint Leaves : 1 bunch (double the qty of coriander)
Garlic: 2 Pods
Green chilies: 2
Lemon juice: from half lime
Sugar: 3 pinches
Salt to taste
Water: 3 to 4 tbsp to aid blending
For Sweet Chutney::::
Imli or Tamarind pulp: 1/2 cup
Seedless Dates/ Khajur : 1/2 cup
brown sugar/ Jaggery: 3/4 cup
Pinch of salt
Water: 2&1/2 cups
Pinch of red chili powder
1/2 tsp kalonji
Directions:
Lets start with the chutneys first.
SWEET CHUTNEY:: Boil the 2 & 1/2 cups of water with tamarind and dates. When they are nice and soft add all other ingredients. Cook till the mixture thickens and jaggery melts well. Turn off the heat and let it cool. When cooled, blend it to a smooth paste in a blender, sieve and keep aside.
MINT CHUTNEY:: In a mixer/ blender, take all ingredients except lime juice and blend to a smooth paste using little water (3 to 4 tbsp should be enough). When done, remove in a container squeeze juice from half a lime, mix well and keep aside
ASSEMBLING:: Add 1/2 tsp of chaat masala to the mashed potatoes and mix well
Arrange the puris on a plate. Top each poori with 1 tsp of potato mixture
Add a tsp each of onions and tomatoes
Drizzle the sweet and spicy chutneys (1/4 tsp of each) sprinkle pinch of chaat masala and black salt.
Then goes sev right on top, add 1 tsp full of sev on every puri and garnish with chopped coriander
Your Sev puri is ready to serve
Footnotes:
In delhi Sev puri is served with dahi. So you may also drizzle sweet or sour yogurt on top of the chutneys
Cumin and coriander powders are also sometimes sprinkled along with chaat masala and black salt during assembling. You may want to use it as per your taste
You can view my Green Chutney Full recipe here: http://secretindianrecipe.com/recipe/tikhi-hari-chutney-spicy-green-chutney
You can view my Meethi(sweet) chutney Full recipe here: http://secretindianrecipe.com/recipe/mithi-khajoor-imli-ki-chutney-dates-tamrind-sweet-chutney