Sevaiyan In Khoya (vermicelli In Condensed Milk)
Sevaiyan is very well known dessert across the world. The reason being its association with the Muslim festivals EID. Sevaiyan and EID and inseparable and hence muslims across the globe know the recipe in and out. Apart from having a religious connotation it is an instant mood burster and a high source of glucose and energy. Here is a recipe which is a little modified version of how it is made usually.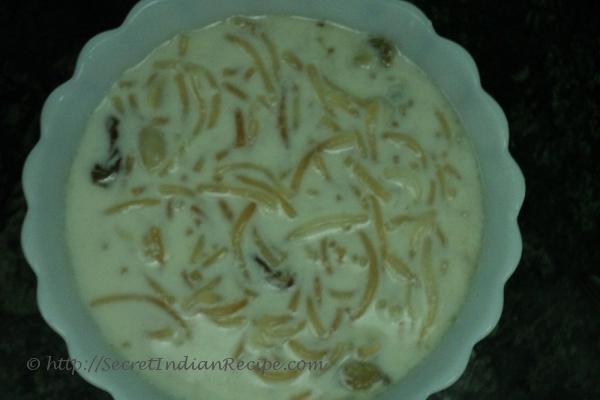 Ingredients:
Sevaiyan (vermicelli) 100 grams (3.5 ounce)
Ghee 2 tablespoon
Khoya (Condensed milk) 100 grams (3.5 ounce)
Milk ½ cup
Cashew 1 tablespoon
Raisins 1 tablespoon
Almond 1 tablespoon (soaked, peeled and quatered)
Pista 1 tablespoon
Cardamom powder ¼ tablespoon
Sugar 2 tablespoon
Saffron 1 tablespoon (immersed in milk) ( optional)
Directions:
First put a pan or Karahi on medium flame and put the ghee. Once ghee is heated add the savaiyan and fry it till they turn golden brown.
In another pan pour milk and bring it to boil.
Add khoya, cashew, raisins, almond, cardamom powder and sugar and cook for 10 minutes.
Stir occasionally. Finely add the saffron and take it down. Refrigerate it for 30 mintues and serve cold.
Footnotes:
Saffron being the costliest spice, it is optional for this recipe. however the taste after using saffron is unbeatable.