Sewai Kheer / Vermicelli Pudding
Vermicelli Pudding / Sewai Kheer is quick and delicious sweet dish / dessert. It is easy to make and a good choice for quick snack for kids.
You can serve it as afternoon snack or after meal dessert for kids. It is a healthy snack for kids as it contains milk, ghee and dry fruits. So its rich in calcium and nutrients. Kids eat this without fuss as this is sweet as well as delicious snack.
I always keep some packets of roasted vermicelli in home so I can make this quickly whenever my kid ask for something sweet to eat. This is one of his favorite desserts.
This dessert comes handy when some guest arrive without notice or you want to satisfy your sweet carving.
Try this recipe, I am sure you will make it often when you want to eat some quick dessert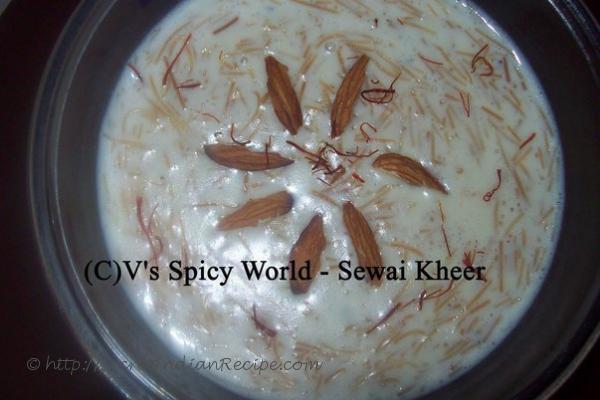 Ingredients:
½ Packet Vermicelli
500 ml Milk
2 Tsp. Ghee (clarified butter)
4-5 Tsp. Sugar / As per taste
3-4 Almonds (chopped)
3-4 Cashew nuts (chopped)
A pinch of saffron threads
Directions:
Crush the Vermicelli.
Heat ghee in a kadhai/pan. Add crushed vermicelli and fry for few seconds (stir continuously to avoid burning). I used roasted vermicelli so it don't need to roast more but if you are using simple vermicelli then roast it till it turns golden brown but make sure it wont get burned,
Add milk and stir the mixture.
Cook it on medium flame till vermicelli get cooked and milk get thicker. (5-7 minutes stirring continuously on medium flame)
Add sugar, nuts & saffron threads. Stir and cook for another 1 minute.
Sewai kheer is ready, Enjoy it hot or cold as you like.
For more interesting recipes and articles please visit my blog www.vslittleworld.com