Shahi Sabjiyan (vegetables In Cashew Curry)
It is a vegetarian side dish recipe which has lot of vegetables like carrots and beans. The sauce is made up of ginger- garlic paste and cashew primarily.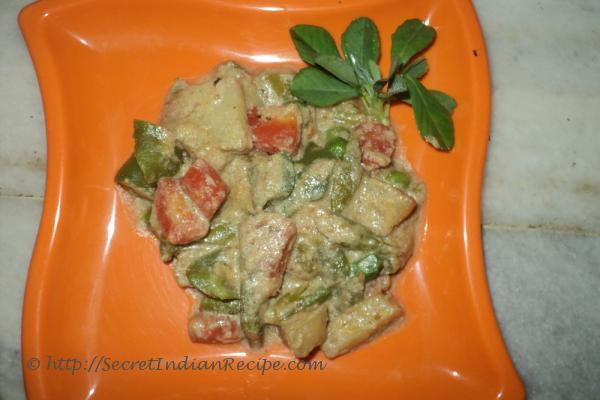 Ingredients:
Potatoes 2 pieces (quatered)
Capsicum 1 piece 100 grams (1/2 inch chopped)
Carrot 50 grams (2 ounce, ½ inch chopped)
Green beans 25 grams (1 ounce, ½ inch chopped)
Green pea ½ cup
Ginger garlic paste 1 tablespoon
Kaju (cashew paste) 2 tablespoon
Onion paste 1 onion , 50 grams (2 ounce)
Kasuri methi (fenugreek leaves) 1/4 tablespoon
Cumin powder ½ tablespoon
Garam masala ¼ tablespoon
Green chillies 2-3 halved
Salt 1/2 tablespoon
Refined oil 5 tablespoon
Directions:
First put a pan or kadhai on the gas stove and pour the refined oil. Once oil is heated add potatoes and carrot and cook on low flame for 3-4 mintues. Then add beans, capsicum and peas and cook for another 2-3 mintues
Then add onion paste followed by ginger garlic paste and sauté for 1-2 mintues. Then add cashew paste chillies, kasuri methi and salt and cover the karahi with a lid. Cook on low flame for 5 mintues. Check if the carrot and capsicum have become tender. Finally add ½ cup of water and garam masala and cook for 5 mintues. Serve it with Chappati or Paratha.