Shahi Spinach Paneer Pulao
This is one of my creations after visiting this famous restaurant in India with my best friend during my college & bachelors days. Oh boy we enjoyed those days almost everyday. As we entered the restaurant, all we had to do is seat down and he even knew what we would be ordering. After lots of trial & error I came up to this recipe which really reminds me of those days. I alway make this pulao during Diwali dinner to present this colorful rice dish just like festival of lights. #Diwali Recipe.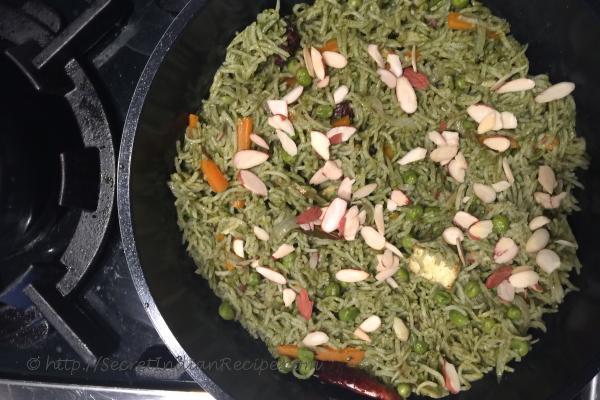 Cooking Time:
20 minutes from start to finish
Ingredients:
1 cup Basmati rice wash & soak for 2-3 hrs
Peas, carrot, paneer as per your taste
2 cup Spinach
1/2 bunch Cilantro
6 garlic cloves
1 Bell pepper cut and deseeded
Spices:
5 Cloves
6 whole Pepper
1 stick Cinnamon
2 Bay leaf
2 Star anise
1 big Cardamom
2 medium Onion sliced
1 medium Tomato chopped
Slivered Almond slice for garnish & add while cooking too
2 tbsp Oil 2 tbsp clarified Butter or Ghee
2 cups of Water to cook rice
Directions:
First take sauce pan. fill 1/2 with water, turn stove on add spinach, garlic, cilantro, bell better cook it until little soft. Strain & reserve the water. Once cool grind & make like chutney paste set it aside.
Take pot in which you will cook rice. Turn stove on,add oil once hot add the dry spices, once heated add sliced onion saute to brown add chopped tomato.
Then add peas, carrot & paneer sauté for 2 minutes add rice which was soaked removing water before adding.
Sauté to toast and add spinach paste & 1/2 of almond. Mix well then add salt to taste. Mix again then add hot water to cook the rice. Mix again,
Cover & cook for 12minutes on medium to low heat without opening. I usually set the timer. After 12 minutes turn stove off & leave the the pot. It will have time simmer more & all flavor to sip in.
Garnish with rest of the almonds & if you like cilantro.
Footnotes:
To make it really shahi you can add all kinds dry nuts & golden raisin. I usually do not add them as my kids are allergic to all other nuts. This could be serve with any kind of curry or even just with raita.