Shahi Tukda
A very easy , yet rich dessert that can be made in a jiffy.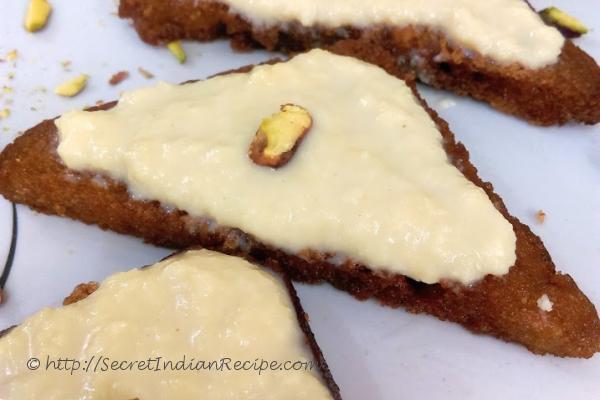 Ingredients:
For the Rabdi-
500 ml Milk
2 tablespoon Condensed milk,
1 tablespoon Sugar
2 Elaichi (Cardamom)only cover, not seeds
4 Brown Bread slices
For Sugar Syrup
½ cup Sugar
¾ cup Water.
Directions:
For thr Rabdi, boil the milk on slow flame till half. Keep on stirring it. Add Condensed Milk, Sugar, Elaichi. Reduce it to thick paste consistency. Remove the elaichi. Keep to cool.
To make the sugar syrup, boil the sugar and water till sugar dissolves completely.
To prepare the Tukda, deep fry the bread slices or bake till golden brown.
Soak the slices in the hot syrup and let it rest for about 30 minutes.
Remove the soaked slices and garnish with the rabdi and pistas. Serve hot or chilled.
Other Indian Recipes that you may Like !