Shahi Tukda (royal Bread Bites)
A royal name for a humble dish is how this dessert is described, the humble bread pieces get elevated to the status of a royal pudding as they get treated with ghee, sugar and rabri (a sugary milk reduction). The origin of this recipe dates back to the period of the Mughals and is today one of the most popular dessert during the Ramadan season.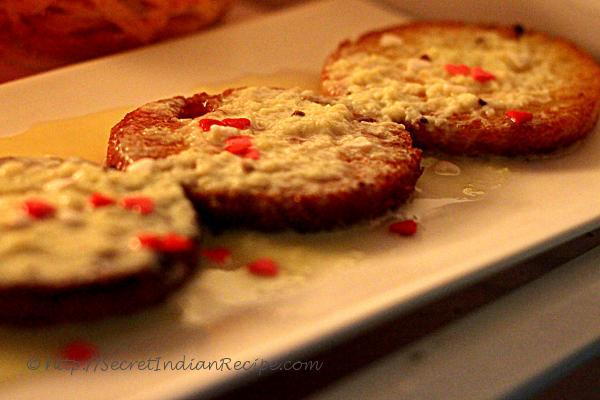 Ingredients:
Bread slices- 8
Ghee- 200 ml
Sugar- 1/2 cup + 1/4 cup
Cardamom powder- 1 tsp
Water- 1 cup
Milk- 500 ml
Pistachios- for decoration
Cake confettis- for decoration
Saffron stands- 4-8
Whole cardamom-2
Directions:
Cut the bread into triangles. I did it round using a cookie cutter because it was convenient for me.
Start making rabri by heating milk. As the milk boils the cream will come up. Remove it to the side of the vessel using a spoon and keep stirring the milk. Add 1/4 cup sugar and cardamom powder and stir till the milk reduces to 1/4th and is thick. Let the rabri cool on the counter top.
Make a sugar syrup by boiling 1/2 cup sugar in one cup water. Add two whole cardamoms and few strands of saffron to this sugar syrup while boiling it. When it reaches one string consistency, (that is when you press the sugar syrup between your thumb and a finger it should stretch like a strand),the syrup is done.
Now heat ghee in a pan and deep fry the bread slices over low flame. Take the bread slices from the ghee and dunk it in the sugar syrup. Set the slices then on a plate after draining the excess sugar syrup.
Pour the rabri over the sugar dunked bread slices and decorate with pistachios and cake decors. Chill before serving. You can have it immediately too.
Thaw the shahi tukda before serving if you refrigerate it.
Footnotes:
Frying in ghee can make the bread hard so soak it in rabri for a long time.