Shappile Pork Masala (pork Masala Toddy Shop Style)
Toddy shops also known as 'Shaap' are the hubs for spicy non veg food in Kerala. Toddy is an alcoholic beverage brewed from the palm trees in Kerala and often sold at these so called shaap. The shaap is also known for its distinct style of cooking and these days there are exclusive cookery shows airing various recipes from the toddy shops in Kerala. This is a recipe picked up from one of the episodes I watched a couple of weeks ago. This is a typical Kerala pork masala made by toddy shops to suit the palates of their customers but it definitely can be enjoyed at home.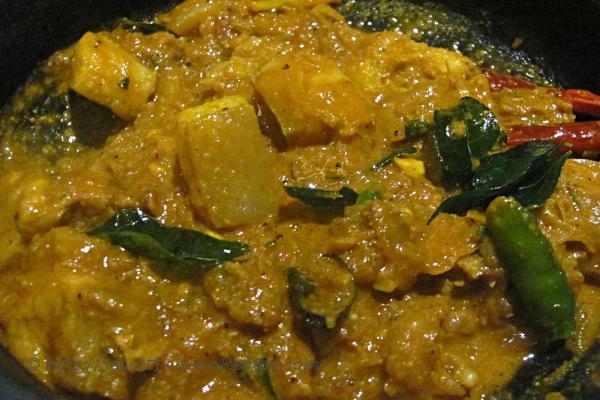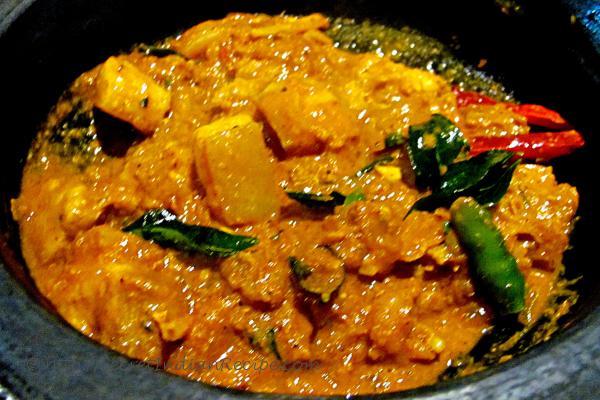 Ingredients:
Pork shoulder- 500 g
Shallots- 50 g
Garlic- 8 pods
Ginger- garlic paste- 3 tbsp
Lemon juice- 1 lemon
Green chilies- 4
Coriander powder- 1 tbsp
Turmeric powder- 1/2 tsp
Chili powder- 1 tsp
Salt- to taste
Vinegar- 2 tsp
Dry red chilies- 3
Curry leaves- 3 sprig
Oil- 2 tbsp
Coconut milk- 1 cup
Directions:
Marinate the pork cubes with lemon juice, salt and ginger garlic paste. Refrigerate the marinated pork overnight.
In a pressure cooker, cook the pork with 1 cup water and 2 tsp vinegar up to 3 whistles.
In a pan heat 2 tbsp oil(preferably coconut oil) and add the curry leaves. Once the curry leaves are crisp add the minced garlic and shallots.
When the garlic and shallots brown add the spice powders and fry till the raw flavour of spice powders go away.
Add the cooked pork now along with minced green chilies. Mince the green chilies using a mortar and pestle instead of slicing them.
Check the salt level and cook the pork for 5 - 10 minutes. Now add the coconut milk and bring the pork curry to a boil.
In a small pan heat 1 tsp oil and fry 2 sprigs of curry leaves and dry red chilies for garnish. Add it to the curry and serve the pork curry with rice.
Other Indian Recipes that you may Like !