Shepu Cabbage Bhajji (dill And Cabbage Fritters)
Dill is a wonderful flavour that was absent in my kitchen for years. It is after moving to Bangalore that I got intrigued with this herb. I had read of recipes in the West that uses this herb in their fish preparations but in our part of the Country this is not a common herb. It is in my pregnancy that my maid told me lactating mothers ate rice cooked with dill leaves for boosting their milk supply and she was from Andhra Pradesh. Dill then became a part of our daily life in the form of colic aid that I gave my baby. And the smell of dill became familiar in our household. We began using them in chutneys and dips and now we use them in a lot of our dishes. Dill is an overpowering flavour so it should be used in moderation. This is a super easy bhajji that uses cabbage and dill. With summer vacations mothers looking out for interesting recipes for their kiddos should definitely try this.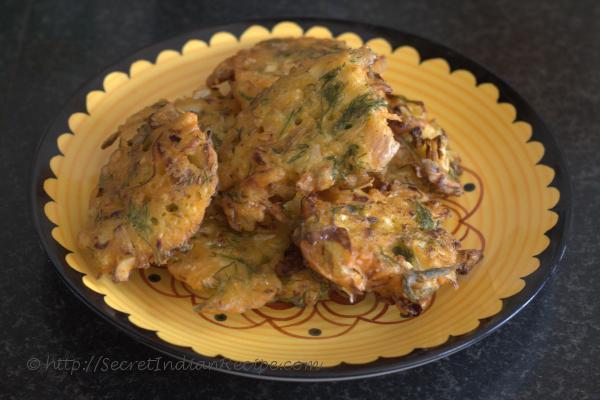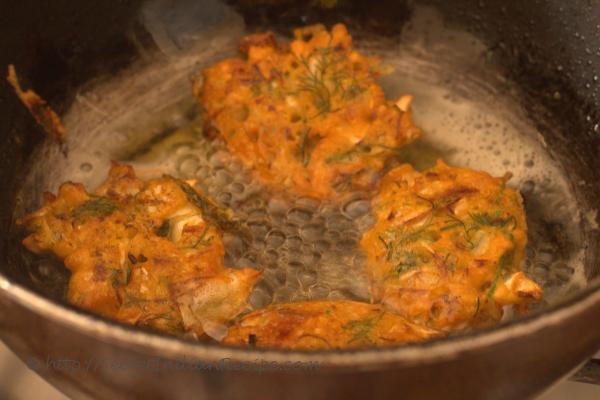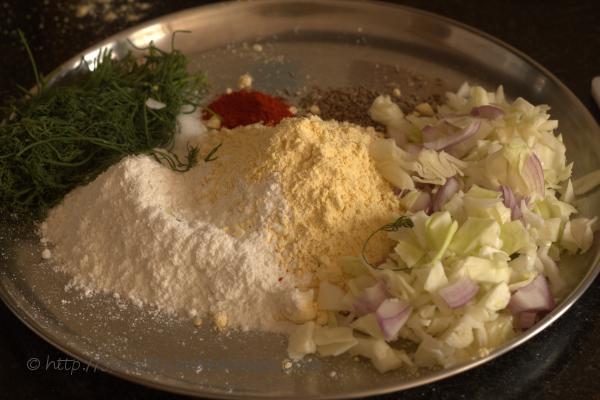 Ingredients:
Cabbage- 200g
Onions- 2
Dill leaves chopped- 1/4 cup
Salt- to taste
Chili powder- 1/2 tsp
Cumin seeds- 1 tsp
Asafoetida- 1/4 tsp
Gram Flour- 1 cup
Rice flour- 1/4 cup
Oil- for frying
Directions:
Finely chop the cabbage and onions. In a bowl take the gram flour, salt, chili powder, cumin seeds and asafoetida along with rice flour.
Add sufficient water required to make a thick batter. Add the chopped dill, cabbage and onions into this batter.
Cabbage will release water in due time so heat the oil in a wok as soon as you mix cabbage into the batter.
Using a spoon drop the cabbage-onion mix in small batches and fry both sides till the fritters brown evenly.
Ensure low flame throughout else the outside of the fritters will brown before their inside cooks.
Drain the fritters using a slotted spoon and serve warm with ketchup or mint chutney.