Shimla Masala (capsicum/ Bell Pepper Curry)
It is a simple vegetarian side dish recipe and takes only 10 minutes to cook. When I was a kid, I somehow did not like its taste. My mother used to cook it with potatoes. Potatoes were my favourite but when my mother used to add Capsicum, it used to taste so different. Capsicum has a distinct flavor and when added with other vegetables it generally overpowers the taste of other ingredients. Later when I was in college, I started eating out with my friends and being in Kolkata the most obvious choice was Chinese. Bengali people love chinese food and if they eat out, the first preference is chili chicken and chowmein. With time, I guess I understood that capsicum and chinese are inseparable and I also developed a liking for Capsicum. Now, I not only include capsicum when I cook Chinese but I also experiment with capsicum to make new recipes. Here is a recipe with has the rich flavor of capsicum along with the tangy taste of tomato, sweetness of onion and of course the favorite Asian ingredient – coriander. Capsicum is good for health and has Vitamin A , C , E and calcium.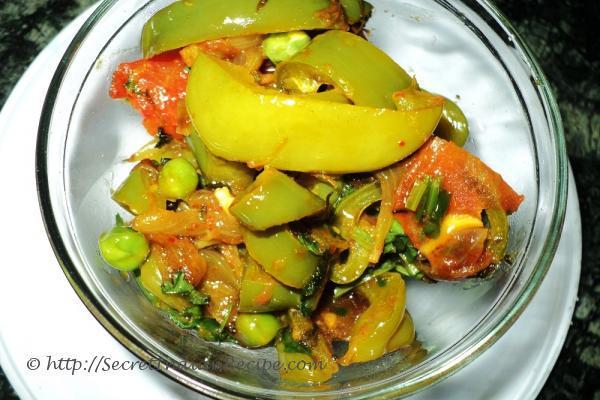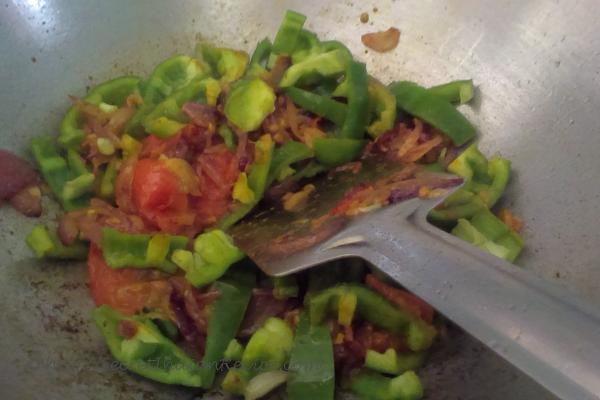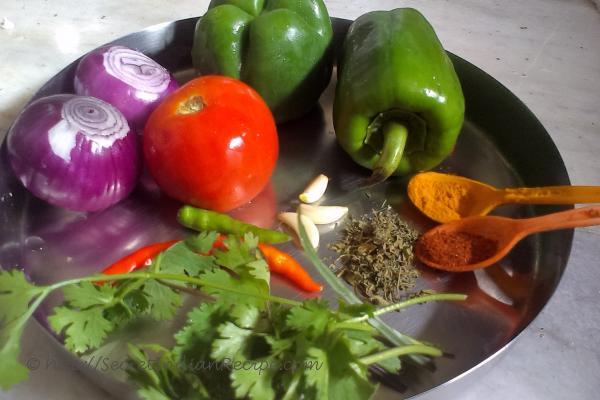 Ingredients:
Shimla mirch (green capsicum) – 250 gram (sliced)
Onion – 2 pieces (sliced)
Tomato – 1 piece (chopped)
Green chilli – 2 pieces (sliced)
Green pea – ½ bowl
Garlic – ½ tablespoon (finely chopped)
Turmeric powder – 1 tablespoon
Red chilli powder – ½ tablespoon
Salt – ½ tablespoon
Kasuri methi – ½ tablespoon
Green coriander leaves – 2 tablespoon (finely chopped)
Butter – 1 tablespoon
Oil- 1 tablespoon.
Directions:
Heat oil in a karahi and add finely chopped garlic. Sauté for few seconds and then add onion.
Cook onion on medium heat till they turn light brown.
Add capsicum, tomatoes, green chili , peas, turmeric powder and red chili powder and mix well.
Cook on low heat till the vegetables are done. Add salt, kasuri methi and green coriander and cook for another one minutes. Finally add butter and serve hot.