Shrimp Potato Fingers
One day I had shrimps left over but not enough for a dish so I came up with this dish. It is good appetizer. Serve with favorite chutney.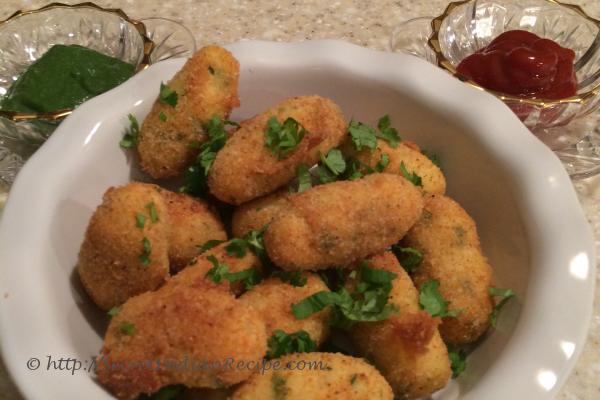 Ingredients:
1 medium size onion
2 tbsp. ginger and garlic - grated together
Spice of your choice, or use 1 tsp. black pepper coarsely ground Alternate spices: 1 fresh chili and 1/4 th cup fresh coriander chopped
Salt to taste
1 cup of instant mashed potato - dry or as needed to make soft dough
1/2 pound medium shrimps peeled and cooked.
Juice of half lemon or 2 tbsp. bottled lemon juice
2 eggs lightly beaten
1 lightly beaten egg for dipping
Breadcrumbs
Oil for deep-frying
Directions:
Finely chop the onion, shrimps and the chili if used
Mix all except the last three ingredients; use water if needed to make dough type consistency.
Roll into small finger shapes. Cover and set aside
Heat the oil in shallow frying pan.
Dip into eggs then roll in breadcrumbs and deep fry until golden brown,drain on paper towel and serve with favourite chutney or ketchup.
Other Indian Recipes that you may Like !