Simla Mirch Ki Sabji (prepation With Capsicum)
Cooking without onions is not as difficult as I thought. ​A superb veg dish for Simla Mirch lovers. This dish is cooked without onions.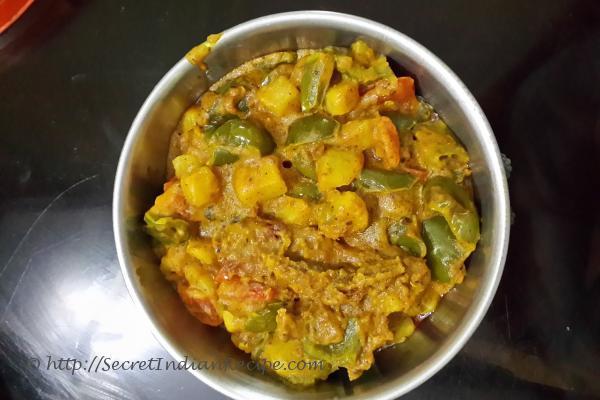 Ingredients:
Simla Mirch (Capsicum) - 2 nos. - diced in squares
Potato - 2 nos. - diced as cubes​
Tomato - 1 no. - diced in squares
Besan (Gram Flour) - 3 tablespoons
Turmeric - 1/4 tablespoon
Red Chilli powder - 1/4 tablespoon
Cumin powder - 1/4 tablespoon
Green chillies - 2 nos - cut lengthwise in halves
Mustard Oil - 1 tablespoon
Water - 2 cups
Salt - 1/2 tablespoon
Directions:
1. Heat oil in a wok till smoky and no smell of raw mustard comes from it.
2. Reduce flame and put the chillies. After a minute add turmeric, red chilli & cumin powder. Now add potatoes in the wok and stir. Add Salt and let it cook.
3. When the potatoes are half cooked add the besan little by little stirring continuously so that it no lump is formed and it does not burn. Stir for a minute or two.
4. Now add the capsicum and mix properly. Let it cook for a minute and add water little by little so that no lump is formed. The mixture will become paste like and should be stirred in between or it will stick at the bottom. Let the capsicums cook till tender
5. Now add the chopped tomatoes. Mix again and let cook.
6. Shimla Mirch sabji is ready to eat.
Footnotes:
After adding water to besan, keep checking and stirring so that it does not stick at the bottom and gets burnt.
Salt and chilli may be added as pleased