Simple And Quick Bhindi Masala Recipe
Bhindi fry/ Bhindi Masala is quick and easy side dish and can be easily made in jiffy.
Bhindi / Okra / Lady Finger can be prepared in various ways but I like this Bhindi fry recipe as its tasty as well as very quick to make, it goes well with Roti / Fulka / Poori and a great side dish for Dal Fry and Jeera Rice / Cumin Rice meal.
Hot bhindi sabji with steaming hot fulka is a great and healthy food in cold season, using less spices you can also give this to sick kid or a sick person. Okra is rich in vitamin A and other anti oxidants so very good for health.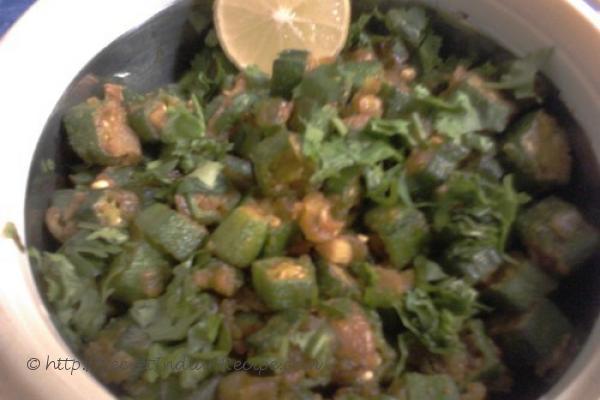 Ingredients:
500 grams Ladyfinger, cut in small pieces
1 onion, chopped
2-3 garlic cloves, peeled and chopped
1 green chili, roughly chopped
1 teaspoon Turmeric Powder
1 ½ teaspoon garam masala
½ tablespoon dry mango powder (Can be replaced by Chaat Masala)
1-2 tablespoons Coarse gram flour (aka Mota Besan)
To Garnish –
Coriander Leaves, chopped
Lemon Wedge
Salt, as per taste
OIL for cooking
Directions:
Cut the ladyfinger in small circles as shown in the image below and chop the onions, garlic and chili.
Heat some oil in a pan (preferably non-stick) and add chopped onions and garlic. Cook while stirring till onions turn translucent.
Add the chopped green chilly and continue to stir for few minutes.
After few minutes, add the chopped lady-finger (Bhindi) to it and give it a gentle stir.
Once the Bhindi mixes well with the onions add the turmeric and sprinkle some salt (as per taste). Give it a gentle stir and let it cook.
Keep stirring the ingredients occasionally to ensure they don't start to stick at the base of the pan. Bhindi should start to get a yellowish-brown color as below.
Sprinkle some garam masala and dry mango powder and mix it well.
Let it roast for few minutes without stirring and then add some gram flour to it. Mix it well to combine the flour with added spices and the lady finger.
As all the ingredients are well-combined and the lady-finger starts to get well-roasted, it should have a coarse and uniform texture as shown below.
Once the lady finger is well cooked, take it off the heat and transfer it to a serving bowl. Garnish with some chopped coriander and a lime wedge.
Serve hot with fulka / roti / poori.
For more interesting recipes and articles please visit my blog www.vslittleworld.com
Footnotes:
Soak the Okra pods in water for 5-10 mins and then wash to remove any dirt, dry the pods using a clean cotton kitchen towel, make sure to dry the pods otherwise they will get sticky.