Simple Veg Thalli
This simple Veg Thalli served with Roasted Papad will be liked by every Indian. Mostly children will like this simple basic meal and it is consider to be healthy recipe.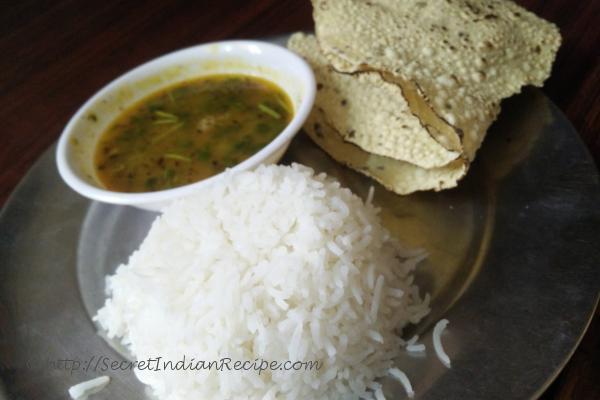 Ingredients:
2 cups of Basmati Rice
1 cup of Toor ki Dal
1/2 teaspoon Red chilli powder
1/2 teaspoon of Turmeric powder
1 teaspoon of Dhaniya powder
Salt as per the taste
1 spoon of Ghee
Little Hing
Coriander Leaves for Garnishing
1/2 spoon of jeera
Directions:
Soak the basmati Rice for 15 minutes. Meanwhile in the cooker add the toor dal and wash it well . Then add red chilli powder, turmeric powder, dhaniya powder and salt as per the taste for 15 minutes. Once the dal is cooked open the lid and allow it to cool. Take a kadai and add 1 spoon of Ghee, add hing , jeera and 1/2 spoon of red chilli powder and add the cooked dal and allow it in boil in low flame for 5 minutes. Close the flame and add the coriander leaves for garnishing Simultaneously cook the basmati rice in a bowl and once it is cooked strain the starch and serve in a bowl This dal chawal can be served with Roasted Papad.