Simple Vegetable & Egg Fried Rice Recipe
Another of my leftover rice recipes! You just cannot go wrong with this recipe. All you need is a couple of sauces, eggs and some left-over rice in the fridge... Vegetables are optional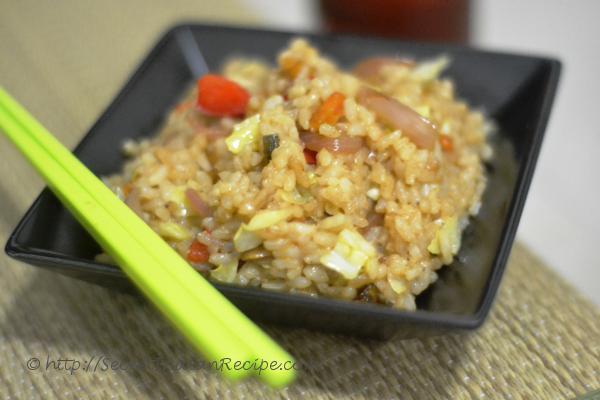 Ingredients:
Oil: 5 tbsp (yes you need more oil for this recipe)
Eggs: 3 beaten
Leftover rice: 1cup
Salt : 1/4th Tsp
Pepper: to taste
Spring onion: 2
Red or green capsicum : 1
Onion: 1 small
Green chilies: 2 (slit)
Sugar: 1/2 tsp or 1tbsp thick soya sauce
Tomato ketchup: 2 tbsp (1 Tbsp hot sauce + 1 Tbsp Ketchup)
Light soya sauce: 2 tbsp
Directions:
In a small pan heat 2 tsp oil, when hot add the beaten eggs, pinch of salt and pepper and scramble them. Cook well remove from heat and set aside
Take another large pan or wok, heat oil. When hot add slices onions, slit green chilies and spring onions (not the greens)
Add pinch of salt and saute. Add the chopped capsicum pieces and saute for 2 mins.
In a seperate bowl, mix all the sauces, sugar and salt. Add this sauce mix to the pan
Give it a quick mix and let it cook for 2 mins
Now add the left over rice and mix everything well.
Cook on high heat for 5 mins. Keep stirring in between to avoid the rice getting burnt at bottom
Now add the scrambled eggs. Taste for seasoning. If you think you need more salt or more sweetness, add at this stage.
Add the spring onion greens and remove from heat.
Serve hot!
Other Indian Recipes that you may Like !