Sindhi Khoyo
This Sindhi khoyo recipe is usually made in winters. But is perfect as a holi recipe too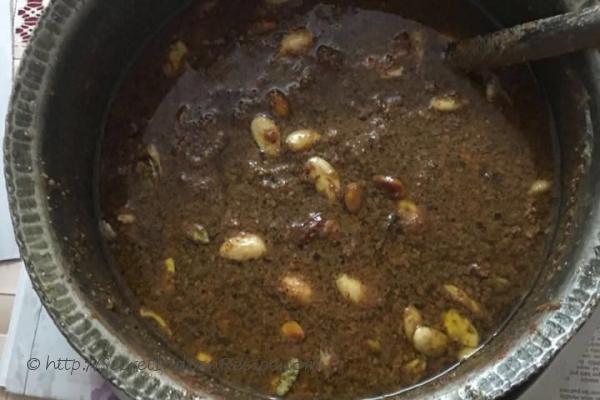 Ingredients:
3liters full fat milk,
Saffron
ghee 1/2 kg,
sugar 1kg,
Almonds (blanched and peeled),cashew, pista - All together 1/2 kg
Dry dates 300-400 gms (seeds to be removed and cut into 4pcs)
Dhania magaj 150gms
khus khus 250gms
green elaichi 30-35 pods
big elaichi 5-6 pods
nutmeg (jafar )1 full,
mace (jalandri) 2 flowers,
mooh safai &mooh lalai 10 gms each
unsweetened milk khova 1/2 kgs crumbled
Directions:
This recipe will take you 4-5 hrs. Take a thick bottom big pan add milk and bring to boil add dry khajur deseeded n cut to the milk and add saffron and continue boiling till the milk is reduced to half ie 1 1/2 or 1 3/4 ltrs, keep stirring so that the khajur doesn't stick n burn at bottom,
Meanwhile when the milk is boiling on medium flame dry roast the spices and blend to powder, make coarse powder of dhania magaj n khus khus separately, take Kadhai dry roast dhania magaj and khus khus powder till it gives aroma and turns nice brown not burnt
Add the spices powder mix well n keep aside, after the milk has reduced add the roasted powders and mix well keep stirring and boiling for 10 min add ghee and bhuno till the colour turns brown add crumbled khova & dry fruits and bhuno stirring continuously on medium to slow flame till it mixes well and gets the brown colour,
Add sugar and keep stirring till the sugar dissolves and becomes thicker keep stirring as you feel it's quite thick not real thick add the powders mooh safai &mooh lalai and mix well increase the flame to high and keep stirring be careful it throws when boiling for 10 minutes and switch of flame remove from gas keep aside covered and keep mixing every time you pass by so that the ghee mixes through completely and as it cools down it gets thicker.
Next day store in your steel boxes and refrigerate it can be stored in fridge for approx 2 months. Take how much you wanna have microwave for 1 minute mix and enjoy khoyo with namak mirch phulko n Papad . Enjoy hope you like it .
Footnotes:
Khoyo Receipe makes 5 kgs