Sindhi Koki / Masala Koki (masala Indian Bread)
Sindhi Koki is made with wheat flour, kneaded with onions and spices. It's a popular breakfast served in Sindhi homes. It can be kept without refrigeration for about one day, so it is also good for picnics or while travelling long distance. It is famous for its taste and texture.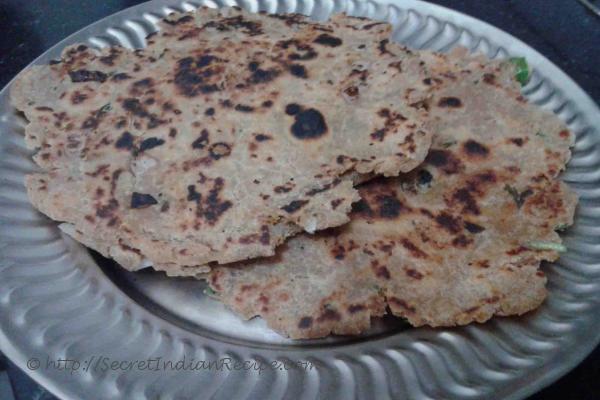 Ingredients:
Wheat flour - 2 cups
Finely chopped onions – 1 piece
Finely chopped green chillies – 1 piece
Roasted cumin powder - 1/2 teaspoon
Carom seeds (Ajwain) - 1/2 teaspoon
Red chilli powder – 1//2 teaspoon
Water for kneading
Ghee – 2 1/2 tablespoon
Refined oil - for frying
Salt to taste
Directions:
Sieve the flour; add onions, green chillies, cumin powder, ajwain, red chilli powder, ghee and knead stiff dough by adding little water.
Now take some dough and roll it into a thick small disc.
Heat a tawa and slightly roast this disc from both sides and then again roll it with rolling pin in shape of thick paratha.
Prick it with fork all over to cook it evenly.
Gently place a rolled out Koki on tawa again and cook it from both sides evenly by applying oil until small brown patches appears on surface.
Use flat spatula (khurpi) to press Koki as this will help in cooking the Koki from inside as well as to get a crisp texture on the outside.
Serve Masala Koki hot with tea or curd.