Smoked Tomato Paneer
Do you know why the Roadside Dhaba food is so popular in India? Some say, it is fresh and cheap than restaurant food. For me it is the unique flavor and taste of the food that attracts me. Over the years I realized, that in typical dhaba they cook food on ' Chulha', a muddy stove and use charcoal or wood as fuel. As a result the food acquires a ' smoky flavour' which is nowhere present in restaurants or when you are cooking at home. However, using Charcoal to bring the ' Smoky effect' is quite well known and here I used this technique to make this 'Smoked tomato paneer'. If you like Paneer recipes and you like dhaba food, just try cooking this recipe once and I am sure you will get an easy and good option for you vegetarian guests.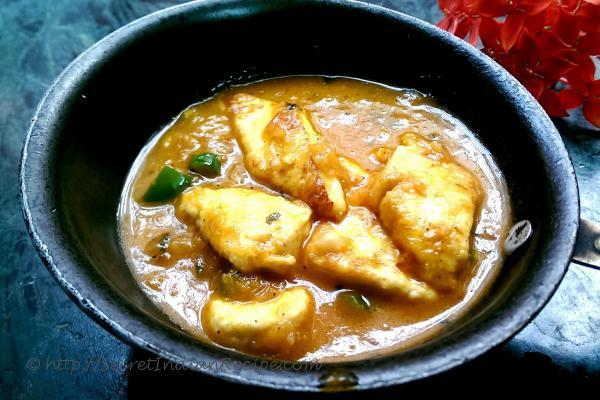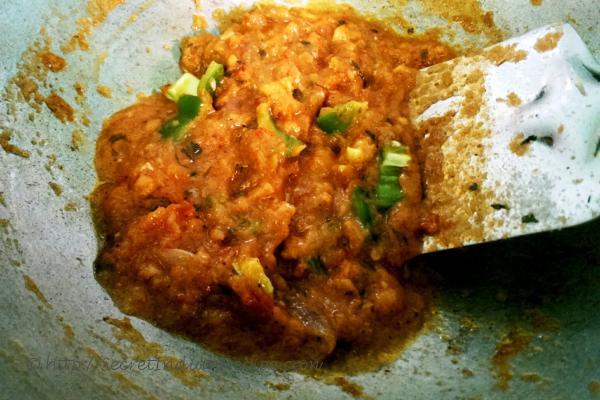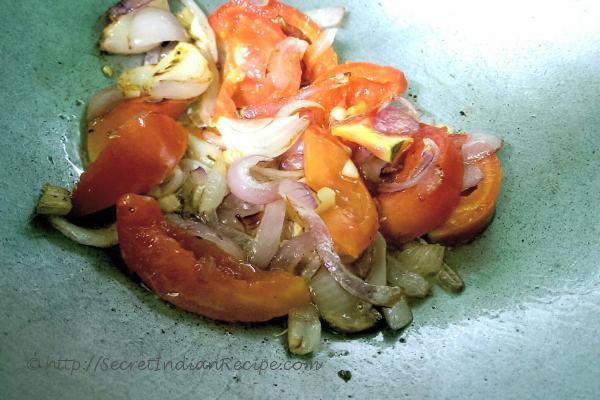 Ingredients:
Paneer (Cottage Cheese) – 150 grams
Tomato – 1 medium sized
Onion – 1 medium sized (chopped)
Capsicum – ½ of a medium sized (chopped in squares)
Ginger – ½ inch piece
Garlic – 2-3 pods
Red Chili powder – As per taste
Turmeric powder – a little less than ½ teaspoon
Salt and Sugar as per taste
Garam masala powder – 1 teaspoon
Kasuri Meethi (Dry Fenugreek) – 1 teaspoon
Oil – 4 tablespoons
Directions:
Cut the Paneer in squares or diamonds. If you are using home made fresh Paneer then keep it in refrigerator for 30 mintues. This will ensure that you Paneer will not stick to the pan while frying.
Heat 2 tablespoons oil in a wok. Add the chopped onions first. Cook over low flame for a mintue. Then add chopped ginger, garlic and tomatoes. Cook again for a mintue.
Switch off the flame and let it cool a bit. Put it in a grinder and make a coarse paste without adding any water….aah I love the soothing colour it brings.
Now heat the remaining oil in the wok. If you are using the same wok then just rinse it with water and make sure it is dry before adding oil.
Add the Paneer pieces in batches as we are using very less oil. Just brown them a bit and then take out on a plate.
Once all the Paneer pieces are fried, add the tomato and onion paste. Add Red Chili Powder, turmeric powder, garam masala and salt and sugar to taste. Mix all.
Add the chopped Capsicum and the kasuri methi and cook for ½ a mintue.
Add required water…about ½ cup and bring it to boil. Cook it for a mintue.
Add fried Paneer pieces, mix and switch off the flame.
To bring the smoky flavor, burn a small lemon sized piece of charcoal over the gas. Then keep it in a ladle and pour ½ tablespoon of ghee over it. Now take the ladle and bring it over the wok containing the Tomato Paneer. Cover the wok with a lid in a way that the smoke is infused in the curry but the ladle does not go into the curry. Just hold the ladle for few seconds and then remove it. Keep the curry covered for a mintue.
Serve hot with Naan or Simple hot Chappati.