Snake Gourd Carrot Theeyal.
This is a traditional Travancore style recipe which my mom has handed over to me with immense love.When my mom cooks this the very aroma of this takes me to a world of food and appetites.Actually this theeyal is really enough for all us to have our plateful of rice finished on a single sitting..lol.The curry is a mix of cooked veggies which we all will love to have with rice or chappatis.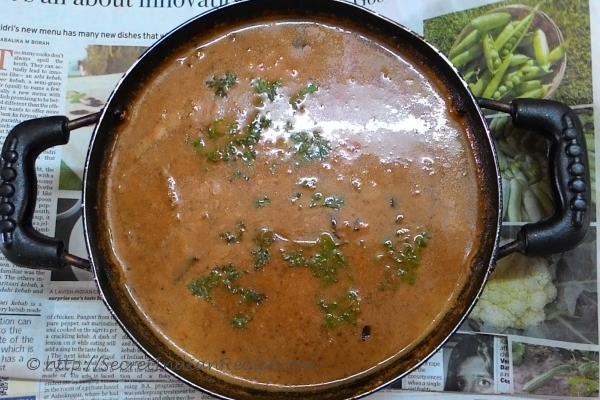 Ingredients:
1 cup sliced snake gourd and carrot .
1cup grated coconut
2 green chillies
6 shallots of onion
A pinch of fenugreek seeds
A pinch of turmeric powder
2tsp of chilly powder
2tsp coriander powder
1tsp Kashmiri chilly powder
1 lemon sized tamarind
6 curry leaves
2tsp oil
Salt to taste
Directions:
Heat a pan add fenugreek seeds and roast grated coconut .
After deep roasting add all the masala powders and roast for 5 minutes.
Then make tamarind juice by mixing water to tamarind.
In a grinder put the roasted coconut and pour tamarind juice and grind to a smooth paste.
Meanwhile cook the snake gourd and carrots in a pressure cooker by adding salt.
Take a pan.Pour oil and add onion shallots,curry leaves and stir for 2minutes.
Then add the smooth paste and cooked vegetables to this pan and cook for about 10minutes.Let all blend together.
Serve it hot with rice or chappatis.