Soan Papdi (indian Diwali Sweet)
Soan papdi is a popular India mithai originating from Rajasthan. It's also known as Patisa in the south. But in all other regions its known as soan papdi. Rajasthani #DiwaliRecipe. I have referred to Vah chef's recipe while making this. I am including the recipe here so you can refer to the steps on how to mix and create string consistency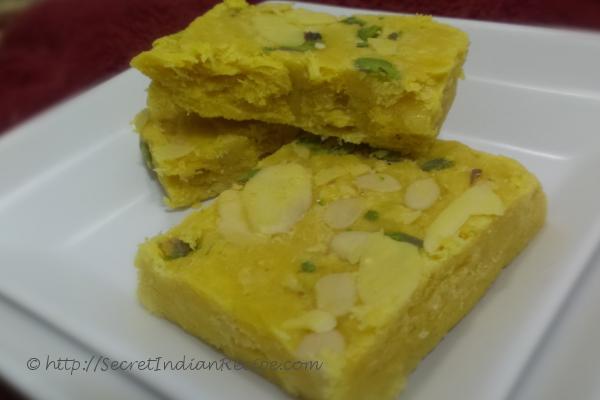 Ingredients:
Besan or chickpea flour: 2 cups
Maida: 2 tbsp
Sugar : 2 cups
Ghee: 1 cup
Dry fruits for garnishing
1 tbsp milk
2 tbsp honey
Directions:
In a non stick page heat the ghee
Add besan and maida and low heat let the mixture slowly cook till all raw smell goes away
You need to keep an eye and keep mixing regularly to avoid the mixture to burn. Keep the heat on low
In another pan, heat sugar and 1/4th cup water. Let the mixture boil and add one tbsp milk
You will see the sugar impurities float up, when this happens skim the impurities.
Now add 2 tbsp honey. To the boiling syrup
On low heat keep mixing. Turn off the heat when it forms a consistency such that the sugar can be moulded into round ball and does not crack
At this stage the syrup will be slight tough and golden in colour
Grease a non stick well with ghee and remove the sugar mixture in it. Using a spoon keep mixing the mixture in the pan from all sides, when you do this you will notice that the syrup keeps getting harder as your mix
It needs to reach a stage where you can see its forming strings and getting difficult to mix
Now add this to the cooked besan mixture which should have reached nice yellowing colour.
Now as shown in video mix both the mixtures (Here is the video recipe by Vah Chef: https://www.youtube.com/watch?v=bGYLzSOjCRU)
Remove on flat surface to let it set
Garnish on top with chopped dry fruits
When its hard and set, slice and serve
Footnotes:
I have used more besan and very little maida. You can use more maida as shown in vah video