Sooji Ka Chila Aur Narial Ki Chutney (semolina Pancake With Coconut Chutney)
Sooji ka chila has evolved as a modified version of southindian food Uttapam. It is basically a pancake where the base is made of semolina. Semolina is easily available and dioesnot require any preparation and it is rich source of carbohydrate and fibre. Sooji ka chila taste best with narial ki chutney. Apart from being the best compliment coconut chutney is a good source of vegetable fat. Sooji ka chila with narial ki chutney is thus a great breakfast option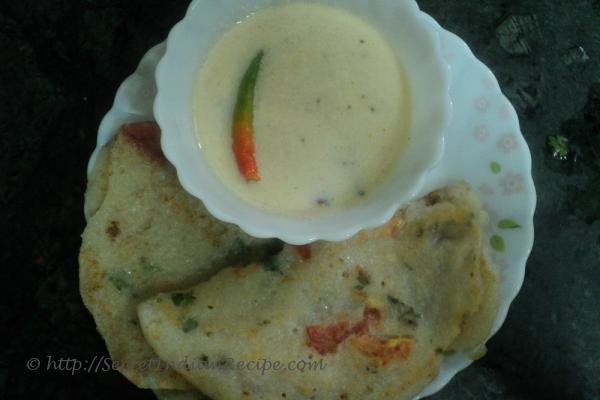 Ingredients:
(For chila)
Sooji (semolina) 100 grams
Onion 1 small size (chopped)
Tomato 1 small size (chopped)
Green Chillies 1 piece (chopped)
Coriander leaves 1 tablespoon (chopped)
Salt 1 tablespoon
Refined Oil 2 tablespoon
(For chutney)
Narial (coconut) ½ coconut (grated)
Channa dal (Bengal gram lentil) 2 tablespoon
Green chili 1 piece
Rai (black mustard seed) ½ tablespoon
Curry leaf 3-4 pieces
Refined oil 1 tablespoon
Salt ½ tablespoon
Directions:
Method (chila) Soak sooji in 1cup of water for an half and hour.Take the sooji in a bowl, add chopped onion,tomato, green chilies, coriander leaves and salt and mix them all very well.
Then on a frying pan or Tawa apply some refined oil and pour 2 tablespoon of this batter and then spread it out with the help of a spatula just like ' Dosa' is made. Once both the sides are cooked take it out on a plate and serve hot with chutney.
Method ( chutney) Roast the channa dal over a pan on Tawa for 2-3 mintues. In a mixture grinder take the coconut, roasted channa dal, green chili and salt and make a smooth paste.
In a pan heat refined oil and put rai and curry leaves sauté for a minute and then add the coconut paste . Cook for 5 mintues. The chutney is ready.