Sooji Toast
Semolina with spices and veggies spread over the bread and shallow fried until golden brown and crispy. #ChaiFingerFood Contest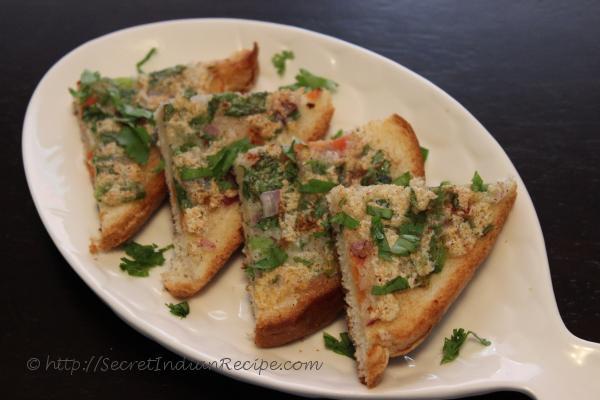 Ingredients:
White/Whole Wheat Bread – 4
Sooji – ¼ Cup
Onion – 1 (finely chopped)
Tomato – 1 (finely chopped)
Green Bell Pepper – ½ (finely chopped)
Fresh Coriander Leaves – 2 tbsp (chopped)
Salt – to taste
Green Chillies – 2 (finely chopped)
Black Pepper Powder – to taste
Lemon Juice – 1 ½ tbsp
Ginger Paste – ¼ tsp
Butter – to toast
Directions:
In a bowl, add sooji, lemon juice, salt and some water so that it will become a thick paste. Keep it aside for 15-20 minutes.
Now add all the ingredients except butter in the sooji paste. Mix well.
Heat a non-sticky pan and grease it with butter.
Take a spoonful mixture and spread evenly on one side of the bread.
Place the toast on heated pan (mixture side should be downwards). Dizzle them with some butter and roast both the sides on medium and low heat until golden and crip.
Cut the toast into triangles and serve hot with ketchup.