Sorgham Chakli(jowar Muruku)
Jowar is a very very healthy cereal and especially good for children since it is Gluten free and has rich Fibre content.
When compared to rice and wheat, Jowar also called Sorghum has a higher content of calcium along with iron, protein and fibre.
The fibre content in jowar could keep hunger away and thus helps in weight loss.
Improves the digestive system and Constipation
Boosts Immune System and Control cholesterol level.
Jowar is a healthy snack for diabetic and Celaic patients.
So this Diwali let us have a healthy snack.
#diwalirecipe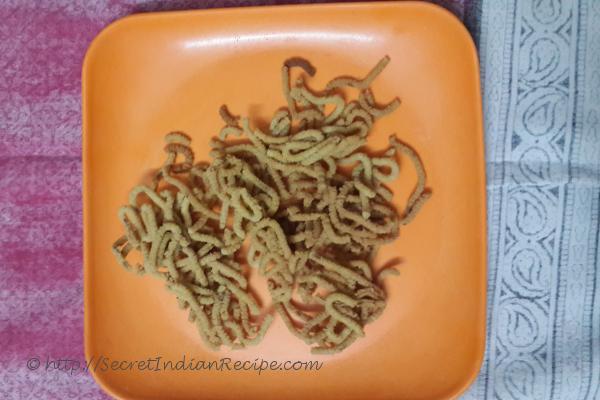 Ingredients:
Freshly ground Jowar Flour - 500 gm.
Dry Roasted Urad Dal Powder - 50 gm
Jeera - 2 teaspoons
Salt - as per taste
Ghee - 2 table spoons.
Oil - for deep frying
Directions:
Procedure 1.Mix the Sorgham (jowar) flour,Urad Dal Powder,jeera and salt with slight warm water and ghee and knead well 2.Put the flour in the murukku press and deep fry in oil with medium heat till the murukku gets a golden brown (slight red look). 3.Jowar Muruku is ready to eat and you can store them in an air tight container.
Footnotes:
Note - Do not keep in very high or very low flame while frying.