Sorpotel ( Mish Mash Pork In Goan Flavors)
Sorpotel also known as Sarapatel is a Goan delicacy which cooks pork meat along with other offal parts of the pork. It is believed to have originated from Portugal and since Goan recipes are influenced by Portuguese cuisine this is no wonder. This curry is extremely tangy and I like to have it as a pickle.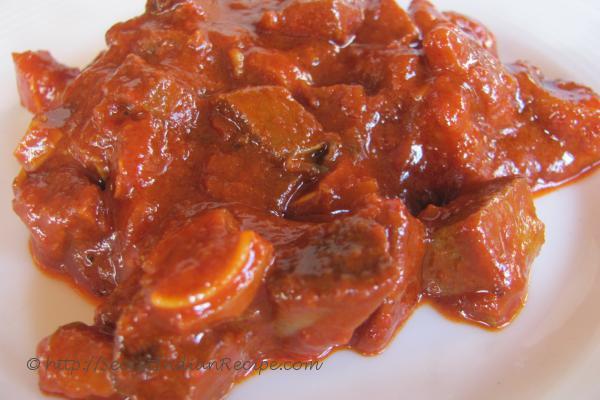 Ingredients:
Pork- 1 kg
Pork liver- 500 g
Kashmiri Chilies- 20
Cloves- 12
Cumin- 1 tsp
Cinnamon- 5 inch long
Peppercorns- 1 tsp
Green Cardamoms- 4
Vinegar- 1 cup
Tamarind extract- 1 cup
Turmeric powder- 2 tsp
Onions- 4
Green chilies- 6
Salt- to taste
Oil- 2 tsp
Directions:
Wash and cut the pork liver and meat into very thinly sliced pieces.
Pressure cook the meat and liver up to one whistle in a cooker with 1 cup water.
Finely dice the onions, ginger, and green chilies.
Grind the whole spices with Kashmiri chilies. Soak the Kashmiri chilies in 1 tbsp vinegar for 30 minutes before you grind them with the other spices.
Fry the onions, ginger and green chilies one by one till golden brown.
Heat 2 tsp oil in a pan and saute the cooked meats. Now add the ground paste, tamarind extract and the fried onions, ginger and green chilies.
Cook over low flame. Add salt and vinegar after 10 minutes and continue cooking over low flame till pork is fully cooked.
Prepare the sorpotel at least two days in advance it tastes better.
Footnotes:
We get Sorpotel masala in shops in Bangalore today but I picked up this recipe from my mom's friend and it is so easy to make.
I have not use offal parts except pork liver. If you like eating offal parts you can add liver, kidney and intestine as well.
I omit tamarind at times and increase the vinegar to 1 1/2 cups.
Other Indian Recipes that you may Like !