Sorshe Ilish (hilsa In Mustard Gravy)
Hilsa fish is commonly known as 'Ilish maachh' in Bengal. It is the most popular and costly fish due its aroma and taste. "Hilsa in Mustard Gravy" is authentic Bengali dish, when i tried it in my Kitchen,I found it so easy to cook.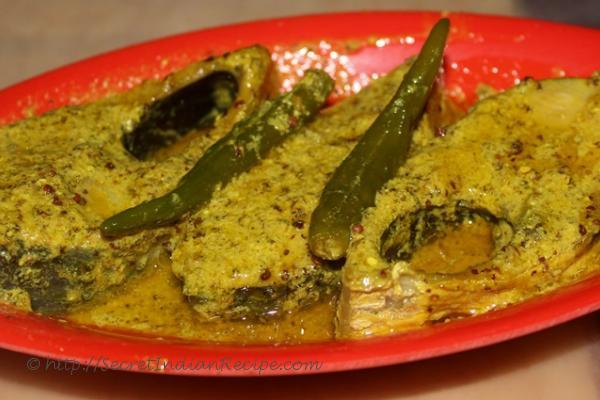 Ingredients:
Hilsa Fish 6 pieces
Haldi (Turmeric powder) 1teaspoon
Green Chilli 8 Pieces
Jeera (Cumin) 1/2 teaspoon
Mustard seeds 5-6 teaspoon
Mustard oil 7-8 tablespoon
Water 1 Cup
Salt to taste
Directions:
Soak 6 tsp mustard seeds, 1/2 tsp jeera in little water for 2 Minutes.
Grind the soaked mustard seeds and cumin with 4 green Chillies, 1 tsp mustard Oil, 1 pinch of haldi and 1 pinch salt into a smooth paste
Wash the fish, sprinkle 1 pinch of haldi and salt to it, keep aside.
Heat oil in pan, put the fish and just saute it for a mintue on low flame, don't fry it.
Now put the mustard paste over the fish, add 5-6 tsp Mustard Oil over it, slit 4 Green chillies and add to it.
Add 1 cup water, adjust the salt and cover the lid, Cook for 10 minutes.
Now serve it with white rice.
Other Indian Recipes that you may Like !